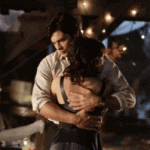 (Season 8, Episode 11, "Legion")
My favorite Smallville episodes are those filled with Superman mythology. So it's without surprise that I enjoyed "Legion" even if my least favorite character — Lana — was a major part of the episode.
Thanks to Legion of Superheroes members Saturn Girl, Lightning Lad and Cosmic Boy, we were given a glimpse as to what Clark Kent's future will entail. Yeah, yeah, I know, we already know about it thanks to the comics, the movies, the animated series and the other TV series. But let's face it, Smallville already messed up a lot of Superman's mythology, so why not decide to have him end up with Lana instead of Lois while we are at it?
So what did we learn about the future? Here is what I gathered (feel free to comment to add what I may have missed):
A legion of superheroes is formed in the 31st century.
Thanks to CK's influence, aliens are welcomed on Earth.
CK wears a cape in the future and uses an alias. Sadly, Garth is stopped before telling CK that he'll be known as 'Superman.'
Chloe is not part of the history books. Now that the Legion and Clark saved her maybe she will be … who knows? Was having Chloe not be part of history a nod to the fact Chloe was solely created for Smallville?
Lana is part of the history books. Yuck. Can't we move on without her?
Even if I enjoyed Brainiac's storyline, especially when James Marsters was around, I must say I'm extremely happy to see it end. It was dragged a bit too long for my taste. Somehow, I'm not 100% sure Brainiac is gone. Why not destroy the 'Brainiac' ball right there and then? Why really bring him back to the 31st century? It wouldn't surprise me if down the road, Brainiac resurfaces somehow.
I'm all for Chloe being Brainiac-free but does this mean she will get less screen time? I hope not because Clark needs a sidekick who knows his secret and can help out. Even if she is, as she says herself, "a lot dumber," Chloe is still a bright woman who can run the Isis Foundation, help the Meteor Freaks and help pave the way for CK to become Superman. One thing is for sure, Clark will need help since Doomsday didn't seem in a good mood when he woke up at the end of the episode!
I loved how Garth was amazed at everything and anything CK-related. He reminded me of Ron Weasley entering Hogwarts for the first time! Casting for Lightning Lad and Cosmic Boy was okay but I can't say the same about Saturn Girl. I didn't buy the character as much as the others. Her acting was so off, at least for me, that I wondered if she could be related to either Lana or Clark when she looked at the picture of them together at the farm. Saturn Girl in the comics is not related to either… but could she be in Smallville? Maybe I'm reading into this too much. What do you think?
In any case, I enjoyed having the Legion around to help Clark out. Now that Clark has a Legion ring to travel in time, do you think he should use it? It was also hinted that there are other Legion members. Which ones should drop by Smallville to help save the day?
Photo Credit: The CW