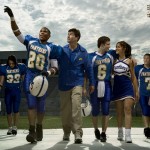 Sebastian's back Guest-clacking for us again….
Seven days remain. Seven days to prepare yourself for one of the most overlooked, under-appreciated shows on national TV. Forty-nine weeks it has been off the air.
This coming Friday, the best fictional show about the game of football EVER will be back. Finally.
So let's remember what makes this show so great. We have seven days to remember why we missed this show so much, why we never forgot that it will return and why we marked our calendars, counting the days, until finally seeing that big red "X."
To do so, you can pick your poison. You could pick up the DVDs, grab your own recordings, or simply read what I have to say about the great show that is Friday Night Lights.

What did grab us, the fans, so much when we watched the first two seasons?
Real stories
From the first second of the first episode, I — and I guess most of you — just sat there and simply believed what was going on. All I knew about high school football was from movies and TV shows. All the pieces were there, but on top of that — on top of the game, the different kinds of people in school, the coach, the fans — you got …
Real people
You know these guys. You've watched them in the hallways during your entire high school career (for those of us who actually went there). You heard about what is going on in the locker room, but now you are able to open the door and take a look inside. You are able to see that there are stories behind those people so diverse, you never could have imagined.
There are so many different players shown, the character of each person different from the next, that you simply have to identify yourself with at least one of them. It grabs you, and you become part of the story. You feel for them. You want them to succeed, both in life and in the game.
Real emotions
Nothing feels fake. Absolutely nothing. What you see here are emotions as though they were written from the players' diaries (if they had one). There's no fake coolness; hell there's not even real coolness in this show. Even the supposedly coolest guy on screen has his hands full. Firstly, his only problems are too many girls and too much booze, but soon enough he has to face the music and find out that love sucks, and that no amount of alcohol can treat the wounds.
All this is made possible by what has to be the most excellent production team ever on a show. They provide us with …
Excellent casting
None of the actors on-screen feel displaced. Every role fits like a glove; every look, every reaction fits. Of course every actor can only be as good as the material he's given, but these people whom nobody knew before (except maybe Kyle Chandler) lift the material off the page and deliver the performances of their lives. If you were able to catch some of them at award shows doing interviews, standing next to each other and talking about a possible renewal of the show for a third season, you just know that they simply want to return to what has become their family on set. The chemistry between these people is simply awesome and it's contagious. It makes you feel for the characters and instantly makes you become part of the story.
High production value
There's simply no way to describe how it feels to see the players finally make it to the state championship game at the Texas Stadium in Dallas in season one. A lot of money made this possible and, compared to other shows (like, for instance, Star Trek: Enterprise or Jericho), it never feels as though this was filmed on a lot or a sound stage. A lot of money has gone into this, and it supports the whole feeling of being witness to a real life story.
A steady-cam that doesn't make you motion-sick
Cloverfield overdid it. A lot of cop dramas still can't handle the shaky steady-cam. Battlestar Galactica uses it wisely (at least in the CG scenes). Friday Night Lights perfects it. Here you don't feel like sitting on a boat watching, and you don't mind people standing in the way, because you are already part of the story and, honestly, does your head stand still while walking, breathing, moving? Of course it doesn't. And on top of all things mentioned above, this makes Friday Night Lights even more real, more right. It makes you even more part of it.
Everything feels right about this show from start to finish. You don't have a single character that you feel isn't necessarily needed. You have the beauty queen who finds out that she can actually get somewhere not with her looks, but her brain. You have the nerdy guy, part of the two man physics-club, who falls in love with her and in the end really gets a shot, both at her and football. You have a guy who accidentally becomes Quarterback who's sensitive, caring and silent — the complete opposite of what you'd expect in the most prestigious position on the field. On top of that he's also gifted in the arts department … and he falls in love with the coach's daughter. You get a glimpse at what said coach's life looks like when he's at home dealing with his everyday problems, as well as managing his team of adolescent players and the team's surroundings.
And it all just feels right, as though taken right out of a documentary, as if you're standing right next to these people living their lives, dreaming and hoping and wishing to be good boyfriends, students, husbands, wives, coaches and, of course, football players.
Friday Night Lights lets you be part of the game of football — for many of you, for the first time. It allows you to see that behind those facemasks are real people with real stories, true feelings and problems that anybody and everybody faces. It allows you to finally make peace with your bad high school memories, be part of this game you never really wanted to be a part of. But in the end, watching this show, you will shout out the team's battle cry with full lungs, in front of your TV, without feeling silly at all.
"Clear Eyes – Full Hearts – Can't lose"
Friday Night Lights returns to NBC next Friday. Don't miss it.
Photo Credit: NBC