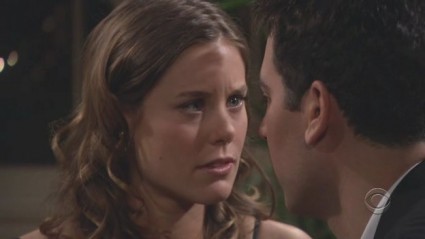 Today's Guest-Clacker is Sebastian, a frequent commenter here at CliqueClack who considers himself a "TV nerd from Germany, way too much into comedy and teenage angst shows."
Remember the whole idea behind this show we love to watch called How I Met Your Mother? It was supposed to be a father telling his two kids, a boy and a girl, how he met their mother. Full of heartwarming anecdotes and tidbits about their uncle Barney and Marshall as well as Aunt Lily and Robin.
What it now ended up to be is a long string of failed relationships and a Lost-like scavenger hunt for who the mother, a woman with a yellow umbrella, will turn out to be. It's year four of this show, and every time the show starts with a "Kids, remember how…" I cringe. And it's for a simple reason: the perfect mother has already been on the show, and her name is Victoria.
So to all the fans and non-fans of this wonderful show, I ask you to remember season one, when our storyteller Ted was chasing after the girl he thought would be "The One" — the later-to-be Aunt Robin. He told her he loved her right on the first date. He stole a blue French horn for her from the restaurant they had their first dinner together. He puked on her welcome mat when he came back to her apartment another time just because he liked her that much.
But Robin didn't want him … then. She had to find out that she liked him while Ted already moved on to greener pastures. And while we first found him with women who meant nothing to him or the viewer, he came across a woman who called herself "Buttercup." They spent a wonderful evening together during a wedding and promised not to tell their real names, not even share a real kiss, just the "Drumroll, Please" (Season 1, Episode 13)
— everything that leads up to the perfect kiss.
That moment was the best I ever saw on How I Met Your Mother. I friggin' love that moment, and that Buttercup woman, Victoria (Ashley Williams), has had the best chemistry with Ted (Josh Radnor) of all the women that came before and after her, including Robin (Cobie Smulders), and especially Stella (Sarah Chalke), whom Ted tried to marry this season. Let's just face it, we were given the Elliot on HIMYM that J.D. already ruined (twice!) and turned into a cynic.
Some things just don't match, including Ted and Stella, and incidentally they already found that out in season one of HIMYM when Barney thought that playing "Battleship" with Robin meant something else than "A7 – Miss." On a side note: Ted also tried to date a dermatologist in season one — but I digress.
Currently the driving force behind the back story on HIMYM is a friggin' goat. Sure, seeing people in love might be boring after a while and we all know that all relationships on TV Shows get broken up sooner or later (I still bet Jam — Jim and Pam from The Office — will break up this season and I'm betting money on it!) for the yearning to return, but I think that the awesomeness of Slap-Betting and the BroCode can't sustain this show much longer. And I don't have enough faith in Neil Patrick Harris and Cobie Smulders to pull the likeness of two seasons of awesome Joey/Rachel weirdness off. While I personally hated those two together, the actors made it work, supported by the fact that Joey was a lovable character.
But Barney is evil and he has to stay that way. To me, making him love Robin is pissing the whole character away, and after that there's nothing left. They already broke up Marshall and Lily. They already had Robin and Ted break up. Barney and Robin together is ruining the show so just give us the mother already.
And let it be Buttercup, 'cause she was perfect.
Thank you.
Photo Credit: CBS