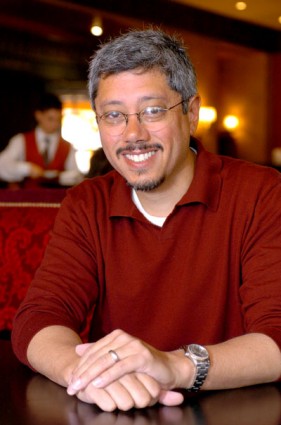 Are you loving Leverage as much as I am? For me, Leverage burst onto the scene this season and stole my TV-viewing heart. I like to be entertained, and this show is pure fun: quirky humor, clever cons, creative flashbacks. Pure fun. Haven't seen it? No more excuses, because Leverage is available in HD in iTunes. So catch up and read the CliqueClack reviews of Leverage already!
So when I had the chance to interview Dean Devlin, Leverage's creator, I naturally jumped on it. Dean's got a varied background in the industry, with acting roles in Real Genius, Misfits of Science and L.A. Law, writing and producing credits on the blockbuster film Independence Day, and executive producer of the three The Librarian TV movies, just to name a few. Ahem. Impressed? I was.
After the jump, I'll share some juicy tidbits about how the amazing cast was chosen for Leverage, a taste of what we've got to look forward to by the end of the season, and what part Devlin played in the Wil Wheaton hockey scandal of the early '90s. Oh, and Christian Kane's hair.
The timing was right for Leverage to get off the ground; it's as simple as that. The idea was kicked around, lunch with John Rogers was already scheduled and the rest is history. Devlin says there was an intentional throwback to the fun '70s and '80s shows; shows without a dark side meant to help you escape for an hour. And since TNT  "puts a premium on talent," not on celebrity, they were able to assemble an amazing cast, and Devlin has something to say about each of them — how the cast was chosen and what each actor brought to their respective roles.
For Nate, Devlin saw a "Tim Hutton type," but never dreamed that Tim Hutton would actually take the role. "He responded to the material and responded to us and got into the spirit of it…. Tim always brings such depth to his character; he was able to take this back story and allow it to maintain poignancy and at the same time to create a character that had a great deal of humor."
Gina Bellman's performance in the "mini series Jekyll blew us away," says Devlin. "[She] brought a very unusual sympathy [to the role of Sophie] that we had not been counting on."
Beth Reisgraf won herself the role of Parker. Devlin says, "A lot of girls came in and auditioned for the part, some quite good actors, but they all kind of played the typical tough, hard as nails thief, action girl." Beth instead brought in with her "a semi-Asperger's craziness that was so original."
Devlin actually had another actor in mind to play Hardison, but as soon as Devlin saw him read he knew he was the guy, and Hodge was given the part on his 21st birthday.
Christian Kane had worked with TNT before in Into the West, and Kane went into the audition and "blew the doors off the place." The part of Eliot was written very "Jason Bourne-like" — quiet and serious. "Christian brought this whole interesting sense of humor and odd anger to the character that none of us anticipated."
And I did it. I asked about Christian Kane's hair. Yep, that's right — I went there. I got a really good answer, too, because the hair is a deliberate character element, Kane's idea. "It was important that this character not look like the typical muscle fight guy … his size and height already help us." But the unruly hair helps us believe that he is "still a down-home southern boy with this surprising ability to be a lethal mercenary."
"It's an evolving thing. It's so interesting to see how people have reacted to it … his fighting powers come from his hair … opponents are so dazzled by his pretty hair that they don't see the punch coming…."
Now, to the Wil Wheaton hockey scandal of the early '90s. What do you mean, you didn't know there was a hockey scandal? It seems that Wheaton and Devlin played hockey together back in the day. "Wil was a dynamite goalie. When he was still shooting Star Trek, we were playing in a game and a puck actually cracked his helmet open and he needed stitches and the producers of Star Trek basically wanted to murder me. 'You're letting Wil stand there in front of a net while we're shooting the series?'" Oh, the scandal.
A few little gems:
Stick around until the end of the season: the story of Nate, his son and his ex-wife will become very clear.
Devlin will be bringing the successful The Librarian series to the big screen, folks … stay tuned!
"The Wedding Job" and "The Bank Shot Job" switched airdates this season, because some character stuff going on in "The Bank Shot Job" needed to be revealed sooner than later.
If you love the flashbacks, you won't be disappointed with the rest of the season.
Even though the episodes can stand alone, the flashbacks are your reward for watching them all because you can piece together more about the characters and get a clear picture of who each one is
Next week's episode, "The Wedding Job," is directed by Star Trek: The Next Generation's Jonathan Frakes.
January 20th's episode, "The Mile High Job," is directed by Rob Minkoff, of Lion King fame.
As Dean said (in not so many words), Leverage is a refreshingly fun show in a sea of procedurals. So treat yourself to this delightful new series; let it take you back to the shows you loved decades ago, the ones that left you feeling entertained and happy after a relaxing hour.
Photo Credit: Electric Entertainment