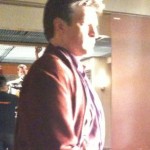 Alright, so "crime fighter" is a stretch.
After I posted my quasi-theory on what the Firefly Easter egg might be on the Castle set, a commenter noted that there was a rumor going around that Castle would be dressing up as the one and only Captain Mal Reynolds of the Firefly class ship, Serenity. Some quick searching found the right-side image (click to embiggen), which looks as though it was taken with a cellphone camera, but it certainly looks quite legitimate. The Castle set is definitely in the background, and that's sure as hell Nathan Fillion dressed as Mal from Firefly. But was it 'shopped? And, if not, is he wearing the get-up for an episode?
I have a super secret source of mine who, without stating definitively yes or no on the subject, seems to be hinting very much that this rumor is indeed true. While this is definitely very cool and fellow Browncoats will be giddy with joy upon seeing the episode, I'm not sure I'd call it an "Easter egg" to look out for. Maybe Fillion isn't clear on what that means and, well, this is what we're supposed to be looking out for.
I imagine we'll see this play out in the October 26 episode of the show (close to Halloween, get it?), which apparently doesn't have a title yet.
Photo Credit: castletv.net
This Post Contains Multiple Pages: 1
2