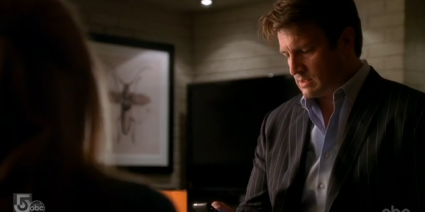 (UPDATE: The Easter egg has been revealed … and it's not this painting.)
This past Friday, Nathan Fillion made mention the following cool tidbit for anyone who's a fan of Fillion or Firefly (actually you're probably a fan of the other if you're the fan of one, because that would just be really weird and, come on, it's Nathan Fillion. You know, Captain Hammer. Bam, said the lady.) Apparently there's a Firefly "Easter egg" on the set of Castle:
Nice to see Jewel Staite and Hubby at Castle today. Showed her the Firefly Easter Egg on Castle set. Can YOU find it?
Oh, the gauntlet is thrown, Mr. Hammer!
I used the magic of Hulu to skim through four or five episodes of Castle, seeing if I could come across anything that stood out as a prop from the set of Firefly. First of all, I decided not to look at anything other than Castle's apartment, as that would be the most logical place someone would throw a call-out to Firefly and I didn't want to drive myself crazy trying to look everywhere else.
Next, I thought to look for something from Inara's shuttle, since Castle's apartment has that sort of feel to it (y'know, in a cool Asian, artsy way, not in the "I'm a fancy futuristic whore" way). There is an Asian decor piece near Castle's entryway that I don't recall seeing anywhere on Serenity, but that's about it.
Finally, when I was about to give up, I saw the scene pictured above, from Castle's office. It's certainly not a prop from Firefly, but is it … a firefly, as in Lampyridae? Not a set piece, but could be considered an "Easter egg," possibly?
Alright, it's a bit of a stretch, as I'd more expect to see a prop from the set of Firefly over something like this. Have any of you seen something else that's more conclusive? Let's hear it!
Photo Credit: ABC