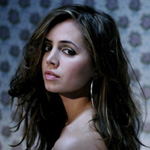 … Either that, or something has snapped and he has actually gone insane. Over at the L.A. Times, they are quoting Whedon as saying he would have put Dollhouse on Friday too. I call shenanigans. This is Whedon being the good soldier, playing along with the network and trying to garner some much needed press for his show. Given the laundry list of shows that have died on Friday nights (23 since X-Files left?), nobody, and especially not Joss Whedon, would be trying to launch the show on Friday. And certainly not after a show that is already struggling.
Really, there's the rub; this whole idea that the network is trying to establish a new Friday night. If that's the case, why are they anchoring it with the biggest ratings failure on the schedule? I'd buy this if the new Friday was something like Bones/Fringe. That sounds like taking two shows with some success under their belts and making a go of it. The failing Terminator:TSCC into the unknown Dollhouse, though; that sounds like burning off shows the network is no longer enamored with. If they do somehow manage to break the cycle and find an audience, great. If they don't, they weren't part of the bigger plan anyway.
I also have to question this idea that there is some magical sci-fi audience on Friday night. Why is that? Because of the Sci Fi channel? Here's the thing. Those great ratings for Battlestar, Atlantis, and Sanctuary on Friday nights would signal instant cancellation on any of the networks. It's a small audience that only really works in the cable niche.
And if we really want to delve into it … More than anything else, hasn't Fox proven that the thing that they can't sell on Friday nights is sci-fi? What has changed since M.A.N.T.I.S, VR.5, Strange Luck, Brimstone, Dark Angel, The Lone Gunmen, Firefly, and John Doe were not able to make it? It's certainly not that there are more people watching the networks on Friday nights.
The show would be better off, despite claims that the network is lowering expectations on Friday, launching on any other night of the week. Well, except for Saturday, but Saturday doesn't really exist in network television anymore. That's not to say Dollhouse is doomed to failure. Stranger things have happened, and maybe the 24th time is the charm. But if the show does buck the odds and actually manages to make it through to a second season, it won't be because the network has done anything in the best interest of the show.
Photo Credit: FOX