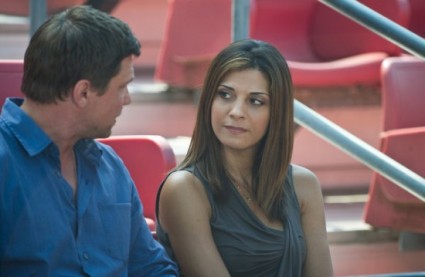 I think it may be safe to say that the USA Network knows how to entertain during the summer. All of their shows tend to give off a warm fuzzy feeling. It doesn't feel like gas per se. It's more like static electricity. I dunno. Bad example. Whatever it is,  it certainly applies to Necessary Roughness. CliqueClack writer Christina Furtado is off wrestling wild alligators in the outback, so I'll be filling in for her this week. I hope you don't mind … and if you do, well, tough.
So, let's get to it, shall we? Last night's installment was just as eventful as the last one, but the thing that I found to be wonderful was how the writers really seemed to utilize Jeanette in a funny subplot. Pregnant Jeanette is funny. Pregnant Jeanette trying to get a random delivery man to compliment her is funnier. I've said it before and I'll say it again — she should have never been written off last season. Maybe the writers realized their mistake because since she's been back this season, Jeanette has been effectively utilized. Here's hoping that we'll see more of her this season.
And while I'm busy wishing on a wishing well, here's hoping that we see less of Dr. Dani's kids. Last night, neither one of them were in attendance. I can't say I cared. Since day one, I was never a fan of her children. They complain too damn much for me. Without the kids, we were able to focus on plots that really mattered — like TK's new drug addiction.
You have to hand it to the brains behind this show. They really do know how to keep TK busy which is interesting when you think about it. I believe that Mehcad Brooks really rocks the show. I wasn't a fan of the second season taking place during the football team's off season, but I've been amazed with how they have been able to concoct a decent story for TK this year. It seems he isn't making much of a recovery after all. I hope Dr. Dani can get through to him. I also hope she can move on past Matt.
You know, for someone so clever, Dani sure does have off moments. Love can be powerful, but I'm going to need for her to get over it and find love with someone else. Nico, perhaps? Just a suggestion. Perchance she needs to be a little busier with more patients — the video game addict was fun — or maybe she just needs to put herself out there. I don't know. I'm not Dr. Phil. However, if I were, I think I'd tell Damon Razor not to run away from his problems.
Now, that was a twist, wasn't it? I honestly didn't see that coming. The Razor drama has added a nice touch to the second season of Necessary Roughness, and I have a feeling that it isn't quite over. I guess we'll see what happens. So, what did you think of this episode? Is there hope for TK? Can Dani move on? Will Razor return? Let me know, folks!
Photo Credit: USA Network