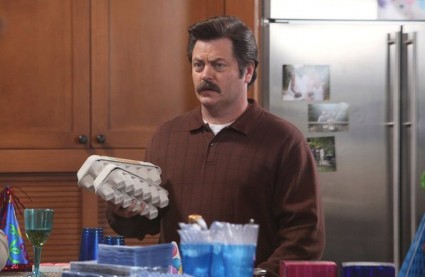 When I set about to figure out who my nominees were for the Lead Actor in a Comedy Emmy, I ran into a problem almost immediately — I couldn't think of almost any. Alec Baldwin, maybe? I guess Joel McHale counts as a lead? I've heard good things about Louie? I really was stuck. This is a pretty shallow field with no one I wanted to win, and it's a shallow field for two reasons. The first is that lead actor/actress races are always going to be less competitive than the supporting races because basic math means that there are always more supporting roles than lead roles. But the lead actress race is actually pretty competitive, which brings me to the second and, in my view, more important reason why, when it comes to lead actors, there are slim pickings — women are far outstripping men when it comes to leading good sitcoms.
Let's be honest with ourselves here. Any sitcoms of even passable quality are almost all a) ensemble comedies or b) helmed by women. Seriously, think about it. I can think of two exceptions — Louie, which isn't my brand of humor, though I appreciate the quality of it, and technically Community, though I tend to believe that's really another ensemble show. Other than that, it's all women or group shows. And it's been that way for years. It's my personal theory that the whole "women aren't funny" meme has been popping up like a game of sexist whack-a-mole over the last three or four years with increasing regularity because male comics realize this and feel all threatened and emasculated by the fact that frankly, they don't have a monopoly on being the funny person in the room anymore. Plus, if women can make themselves (and men) laugh, they're all in trouble, because dude lore explicitly states that the easiest way to get a disproportionately hot woman to marry or bang you is to be funny. What if women stop wanting to bang them? What if in order to get sex they actually have to, you know, be caring and considerate? What if they have to worry about their looks just like women do? How unfair and terrible! No one should have to live like that!
Because this field is so bereft, a lot of weird stuff tends to happen in it, like the "Rob Lowe counts as a lead actor?" debacle of 2011, Charlie Sheen getting nominated for an Emmy, and The Big Bang Theory managing to win one at all. Which is why I have a plea: Nick Offerman, for the love of God, can you please nominate yourself for this category?
Look, I'm really glad Adam Scott has switched over to this category and probably has a real chance of taking it, too. I think Ben Wyatt is great. But Ben Wyatt has nothing on Ron Swanson, and we all know it. Just this season Ron wrangled the Tammys, was glorious in "Pawnee Rangers", convinced Tom to come back to the Parks Department, formed Leslie's campaign staff, revealed his love of scavenger hunts, and revolutionizes meditation. All of that more than deserves an Emmy, but even in the Supporting Actor category, I'd be hard-pressed to give it to him. This is Nick Offerman's playground, and if Rob Lowe and Adam Scott can play on it, he needs to get over himself and realize he damn well can too.
And the winner is … Adam Scott? Joel McHale? Louis CK? Garrett Dillahunt? If Nick Offerman's not in the race, I don't really care. Fight amongst yourselves, boys, just don't let it go to anyone from CBS. Because, to quote Ron Swanson, awards are stupid. But they'd be less stupid if they went to the right people.
Photo Credit: NBC