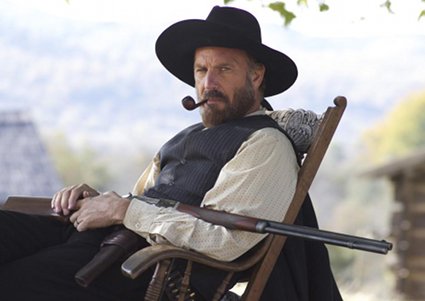 CABLE – Holy smokes. If you would have had to take a wild guess at the numbers for History's Hatfields & McCoys mini-series, what would you have thought? Five million viewers? Six million? Would anyone have guessed fourteen million? Because that's what happened. Not only was it the leader on cable, Hatfields & McCoys topped everything on the broadcast networks as well. Check out the numbers.
Hatfields & McCoys Part 1 (13.87m/3.7)
Hatfields & McCoys Part 2 (13.13m/3.7)
Hatfields & McCoys Part 3 (14.29m/4)
The closest competition on the networks was America's Got Talent (11.51m/3.7). And, I suppose, technically one of the Miami/Boston NBA games (8.99m/4.1) did edge the Hatfileds & McCoys in the demo. But I think the extra five million viewers trumps the .1 demo edge.
Basic

Mad Men (2.07m/.6)
The Killing (1.31m/.3)
Secret Life Of The American Teen (1.4m/.7)
Rags (3.47m/.5)
The Game (2.24m/1.1)
Workaholics (2.12m/1.3)
Let's Stay Together (1.62m/.8)
Melissa & Joey (1.25m/.7)

Hot In Cleveland (1.19m/.2)
Happily Divorced (.99m/.2)
Pawn Stars (6.7m/2.1)
Outlaw Empires (.44m/.2)
Deadliest Catch (2.99m/1.3)
The Devils Ride (1.03m/.5)
Hollywood Treasure (.57m/.2)
Swamp People (4.85m/1.8)

Premium

Game Of Thrones (3.38m/1.6)
Girls (.87m/.4)
Veep (.83m/.4)
Hemingway & Gelhorn (.55m/.1)
NBC - The peacock was easily the most active of the broadcast network, and did have the week's big ratings winner with America's Got Talent (9.96m/2.8 – 11.51m/3.7). Ninja Warrior (5.79m/2.1) was the other summer offering. Elsewhere, it was wrap-up time for Harry's Law (5.9m/.7) and Best Friends Forever (2.39m/.6 – 2.04m/.6). The last bit of new programming came from the Stanley Cup Finals (2.9m/1.1).
ABC - It was not a great week for ABC. The summer programming trio of The Bachelorette (5.79m/1.9), Duets (5.92m/1.5), and Rookie Blue (5.65m/1.4) was down across the board. They were joined by the final ABC appearance for Cougar Town (3.42m/1.2).
FOX - The week started ok with NASCAR (7.41m/2.1) taking over Sunday night. The news was also good Wednesday, with a solid number for So You Think You Can Dance (7.15m/2.7). Unfortunately, the news was not nearly as good for the Touch (4.58m/1.3 – 4.6m/1.3) finale on Thursday. That doesn't bode well for season two.
CW - The little network kicked off two summer shows to similar results with The Catalina (.94m/.3) and Breaking Pointe (.93m/.3). Elsewhere, The LA Complex (.62m/.3) continued and Next Top Model (1.42m/.6) finished another season.
CBS - As has become the pattern, CBS went heavy with the repeats. The only new programming came from 48 Hours Mystery (5.98m/1.5) and Dogs In The City (6.72m/1.3).
Photo Credit: History