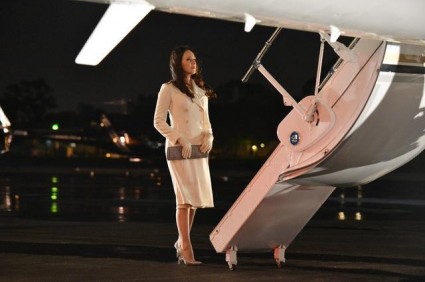 The regular network television season finally came to a close last week. In May, there were quite a few shocking season (or, series) finales. I asked my my fellow writers to share their favorites. Every finale just seemed to be as good or better than the previous one.
I loved watching Castle and Beckett finally get together. The shocking Fringe finale set up for an amazing last 13-episode season this coming fall. And, what about all the death cliffhangers on Revenge … wow! On NCIS: Los Angeles, how will Callen get out of that mess and has Hetty resigned for good this time? Nikita was a game changer, will Division be able to function as a legitimate organization with Ryan and Team Nikita involved? Those were just a few of my favorites. Check out what the rest of the Clique clacked….
Kim: I'm going to say Modern Family because they honestly surprised me with Gloria's upcoming pregnancy on the show and in the fact that Cam & Mitch didn't get their adopted baby. It made me really excited for next season, which many of the other sitcoms did not accomplish this year.
Katie: Community (the last episode of the three). Despite the depressing events of the very next day, I think the last act of "Introduction to Finality" was easily the best ending of a season Community has had yet. If the show hadn't been renewed, this would have made a very satisfied goodbye to these characters. And the use of the extended theme song during the end montage was perfect.
Julia: There were a lot of really great ones, (New Girl, Parks and Recreation), but I think the prize has to go the three-parter from Community. I laughed, I cried, I felt every feeling, I wanted to quote the entire thing and watch it over and over and over again. Do you really need anything more from a finale?
Michael: Bob's Burgers … of course. And for one heart-breaking moment of the finale: The lack of symmetricality. The cold slap in the face of hard fact is a dream destroyer. *sigh* 
Jaylen: Oh, that's easy — Desperate Housewives! Duh! I've followed that show since it premiered back in 2004, and I'm rather pleased with how it ended…for the most part. I wasn't particularly thrilled with some of the flashforwards at the end, but I thought the finale was bittersweet and filled with a few good twists — a court case, a wedding, a birth, and a death! What more can I ask for? It was a fitting way to say goodbye to those desperate broads that I loved so much.
An: Castle, especially the final 5 minutes and Castle's speech to Beckett at the mid-mark. Even if they reset in September, high marks all around. Although I didn't have favorites of the others, I still enjoyed them. For awhile TV trended towards mind-blowing season enders that  fell flat and wasted a lot of ca$h. Instead, this season we just had really well done finales. Community's first episode of the three parter , was technically supposed to air last, and it was awesome. I loved the season enders for Scandal, Person of Interest, Cougar Town (which was a series finale for ABC),  Bitch in Apartment 23, and Unforgettable (which might be a series finale).
Christina: I loved Community, which would have made a great series finale, with Jeff kind of coming full circle. I also agree with An about Castle. I am not too heavily invested in Castle-Beckett aside from wanting them to just get on with it already, but Nathan Fillion really moved me when he was pleading with her not to get herself killed.
Rachel: Hmmm. I think that Revenge was my favorite finale of the season. Especially the last 15 minutes or so. I kind of expected Amanda to be at the bar when Emily came to talk to Jack, but it was still a nice way to delay the Emily/Jack development for awhile (although I really don't think that Amanda is actually carrying Jack's baby). Emily breaking it off with Daniel was a surprise. And finally, the last sequence with Charlotte watching the news, her father finding her unconscious, and Emily and Nolan discovering a new video — all with that killer song playing in the background ("Seven Devils" by Florence & The Machine). Wow. That was awesome.
What were your favorite finales of the season? There were so many contenders that the polls have been broken up into two categories: comedy and drama. Vote for your favorite and then share why in the comments. Have more than one favorite? You can vote once a day until the polls close on Sunday, June 10th at Midnight PT.
Photo Credit: ABC