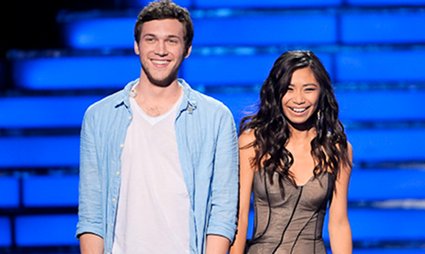 FOX - As we slowly transition to the summer season the last of the big finales hit, and that was both good and bad. The big finale for American Idol (14.85m/4.4 – 21.49m/6.4) brought nice gains for what has been a down season, but still counted as the lowest rated finale the show has had. It will be interesting to see what the changes producers have hinted at do for the numbers.
The House (8.72m/2.9) finale was in a similar situation. This final season has been well down, but the finale brought back a glimpse of what the show once was in the ratings. The rest of the fall schedule consisted of Simpsons (4.82m/2.1), Bob's Burgers (3.57m/1.7), Family Guy (5.35m/2.6), and Glee (7.46m/2.9). The week ended with the official beginning of the FOX summer schedule as So You Think You Can Dance (6.26m/2.4) premiered to modest numbers.
ABC - Things were very similar for ABC. Dancing With The Stars (16.84m/2.9 – 17.75m/3.3) has also had an off season, but finished on an up note. And, like Idol, it was a series low finale. Also finishing up, to mixed results, were The Middle (6.52m/2), Modern Family (10.07m/4.1), Don't Trust The B (5.6m/2.4), and Revenge (7.85m/2.4). On the summer programming front, Duets (7.67m/1.7) and Rookie Blue (6.09m/1.4) premiered at low levels while The Bachelorette (7.53m/2.4) took a week two drop. The other new programming was the Billboard Music Awards (7.4m/2.4).
NBC - Completing the series low reality finale trifecta was Celebrity Apprentice (6.86m/2.2). Also finishing up were SVU (7.16m/2) and Awake (2.87m/.9). The Awake result is notable for it being up despite following a night of repeats and having already been canceled. The news was better on the summer front, with America's Got Talent (9.66m/3.2 – 9.44m/3.3) and a bit of a surprising result for American Ninja Warrior (6.2m/2.4).
CBS & CW - There wasn't much to speak of on the other two networks. CBS brought the tremendously old skewing Jesse Stone (12.93m/1.2) and a Clash of the Commercials (5.96m/1.3) special. The CW had The LA Complex (.45m/.2), Next Top Model (.83m/.4), and Perez Hilton All Access (.81m/.3).
CABLE
Basic

The Client List (2.55m/1.1)
Mad Men (1.92m/.6)
The Killing (1.31m/.4)
Eureka (1.62m/.4)
Secret Life of the American Teen (1.16m/.5)
Lost Girl (1.15m/.3)
Good Luck Charlie (2.55m/.4)

The Game (1.99m/1)
Let's Stay Together (1.53m/.8)
Pawn Stars (5.29m/1.8)
Outlaw Empires (.96m/.4)
Deadliest Catch (3.25m/1.5)
The Devils Ride (1.55m/.7)
Hollywood Treasure (.7m/.3)

Premium

Game Of Thrones (3.86m/2)
Veep (.81m/.5)
Girls (.68m/.4)
Nurse Jackie (.55m/.2)
The Borgias (.55m/.2)
The Big C (.45m/.2)
Photo Credit: FOX