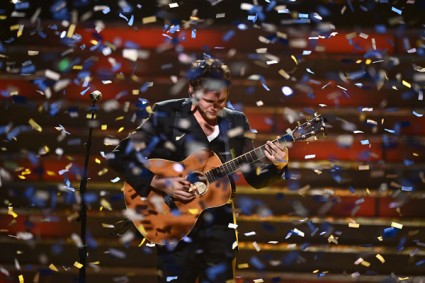 Now that, folks, was a spiffy American Idol finale.
Thoughts throughout the finale … which was one of the best Idol has produced:
Watching the first song John Fogerty and Phillip Phillips performed, my only thought was "It has to get better from here on out." And It did … with "Bad Moon Rising." Fortunately.
The Joshua Ledet and Fantasia duet:  I just want to know who got the job of pouring Fantasia into her outfit. And oh yeah … how, again, did she get away with winning season 2 again?
Wow. With the Top 12 Girls coming out and then introducing Chaka Khan, all I have to say is … that was a whole lot of chest and a whole lot of Spanx withholdery. I'm glad there wasn't an explosion on stage.
Why did Jessica's friend and Phillip's brother-in-law get Ford Escapes? I know why Jessica got one, I know why Phillip got one … but the other two?
Rihanna on Idol. Some may have liked it. I didn't. But I did enjoyed the "lip-syncing" drums during the song. (Sarcasm.)
Skylar Laine could have been Reba's daughter. Just sayin' …
Steven. And his sloth. And his monkey. And his ex-manager. And his bunnies. And Randy.
Of the Top 12 Guys' performances, something was reconfirmed I knew long ago: DeAndre still can't sing. (On the other hand, at 71 years of age, Neil Diamond still can.)
Has anyone tried dialing 655-0122 yet? The number the Idols were singing out their phonebooks? What? No area code? Oh … well, then … never mind …
Idol alums Ace Young and Diana DeGarmo, Scotty McCreary, Taylor Hicks, Jordin Sparks, etc.
Nice little Robin Gibb tribute.
What! In! The! World! Was! That! Duet! Between! Jennifer! Holliday! And! Jessica! Sanchez! It wasn't so much a duet as it was an on-stage exorcism! I thought Jennifer was going to bite Jessica's head off at any given moment! Cripes! Some of those looks she was giving her were maniacal! One of the strangest performances on Idol finale ever.
Steven Tyler and Aerosmith are still the showmen, but Steven can't quite catch those high notes anymore … can he?
And … nice concluding final duet from Jessica and Phillip. (Jessica still can't sing with anyone but herself. Seasoning will change that soon enough.)
Of course it came down to the 11th hour on this edition of the show to finally get my prediction to come true … that Jessica could not, would not win season 11. It simply made for necessary drama, something which tends to raise its head around Seacrest and Company. In the end, the deserving contestant won the crown … and deservedly so.
Jessica? She will be fine. She'll get a contract, do her thing and probably be all the happier in the runner-up status then she would as the winner. She simply needs a little more time on her side to truly get where she's going.
Phillip? Congratulations. It was a rough ride for you, buddy, with all your ailments and kidney issues and the like … but you did it.
And you went out with a pretty decent celebratory song, too.
Photo Credit: FOX