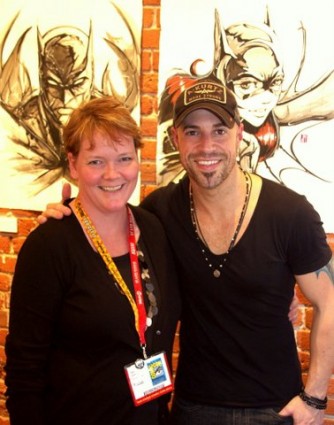 I had no idea Chris Daughtry was an artist. I mean yes, he's a musical artist, but it seems his mega talent doesn't stop there. He can also do a more than respectable job with a pencil in his hand and a blank piece of paper at his disposal.
This was proved during Comic-Con last week in San Diego, where Chris showcased and talked about his new piece of artwork, which he collaborated on with friend, mentor and comic book artist Jim Lee.
The lithograph Chris and Jim created is made up of three panels, all the same head and shoulders bust of Batman, Daughtry's favorite superhero. The first panel is a pencil rendering done by Chris alone. The second has a bit of Jim's hand in colorization, and the third is the final and completed Batman. And if you ask me? It's pretty terrific!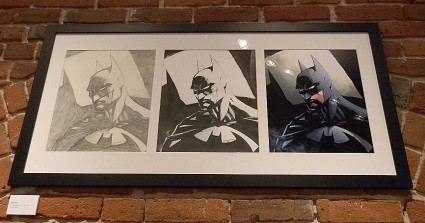 However, there was a two-fold reason Chris was at the Michael J. Wolf  Gallery last Friday night. Of course he was there for the exhibit entitled "Darkness and Light; Art Inspired by Heroes & Villains, Hope & Heroism." But he also told us about the re-release of his song "Rescue Me" on iTunes, and his passion to give one hundred percent of those proceeds to stop hunger in ravaged parts of Africa.
Here! I'll let you see what Michael Noble and I asked him, as well as his responses. He can tell you about his feelings much better than I can. …
Tara: Hi Chris … my name is Tara. I work for CliqueClack TV. Saw your band in Muskegon, Michigan. You rocked it out.
Chris: Hi Tara. Thanks.
Tara: Can you tell us why this cause is near and dear to you personally?
Chris: Well, one: I've always been a big comics fan and fan of Jim Lee, and we've done some work before, and Jim called and said, "Hey we're getting ready to roll out this campaign and this is the deal … there's really … there's no big catastrophe or tsunami or anything like that. So you're not going to hear about it on the news. Basically it's the worst famine in sixty years. The worst drought in sixty years. These people need water, food … simple as that. Do you want to help us?"
(I said) Absolutely. So, we kinda got together and brainstormed some ideas of what I could do and we had a song called "Rescue Me" that I thought worked very well with the campaign, and so we rerecorded a different version of it, so it was more intimate, more piano/acoustic/bass and just went out on iTunes two days ago and one hundred percent of the proceeds goes to helping these people that need rescuing.
Michael: Hey Chris, Michael Noble CliqueClack. About the artwork, you said that Jimmy Lee contacted you?
Chris: Yes.
Michael: Did you know of him? Or …
Chris: Yeah, yeah. Well I've been a fan of Jim's for a long time but lucky enough to be friends with the guy for a few years now, and we've been talking about doing some artwork together on and off. And he knew I drew, and I would send him pictures, and he would send me tips about how to make it better and whatever … like that.
(We all chuckle)
And when we talked about what we could do he was like, "Hey we're going to do this huge art exhibit. Would you want to do an original piece?" And I said absolutely. Obviously, I'll do Batman, that's one of my favorite characters.
And I sent him a picture (of my drawing) on the phone and he asked if he could ink it. I was like "Yep!"
(laughter)
Michael: You weren't expecting that?
Chris: No, no! So I just thought it was a really cool thing and obviously you can see the Jim Lee influence. So yeah, I was pretty stoked.
Michael: Very nice.
Photo Credit: Keith McDuffee, Michael Noble, Tara Shrodes
This Post Contains Multiple Pages: 1
2