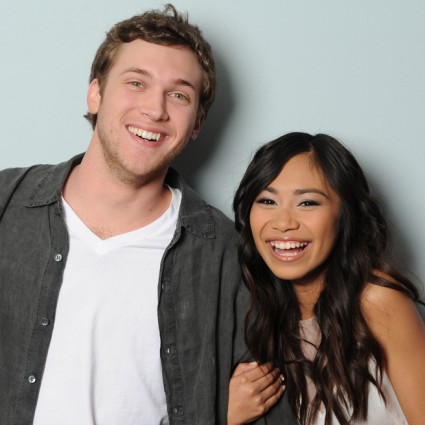 On Monday, I got the opportunity to chat with Jimmy Iovine not only about the fast-concluding season 11 of American Idol , but the finale and many of the contestants. One of the more interesting things that came out of that brief conversation was when I asked him about his thoughts on the Idols over the past few weeks:
"… I'm on their side in crafting the songs for the contestants. At the end of the game, they get to talk about what happened. If you're in a playoff game and the coach comes back and says he didn't do well or this one did great, it's just about what it is. It's my responsibility to help the artists, the singers and the audience, give them my take on what happened … and what did happen … why things happened. Or why I felt it didn't work … or why I agreed or disagreed with the judges. It's part of the creative process and I'm the front of it and the back of it. It's my responsibility to train the team and then let them know what happened [afterward] …."
The bottom line is that Jimmy takes his responsibilities to heart when it comes to coaching the Idols in their endeavors. It's the reason why songs have changed during rehearsals. It's the reason a particular tempo or arrangement or piece was done in a certain manner than originally planned. He also is hard on himself when he believes something has gone awry based on his decisions or suggestions. The seemingly hard-hearted coach and mentor of last season has become someone I, personally, have really enjoyed this season.
Additionally, I look forward to what he has to say about the performances of Jessica and Phillip come the finale Wednesday evening.
Which takes us right into the penultimate episode of this year's Idol. Three rounds consisting of creator Simon Fuller's personal picks for the contestants, Jessica's and Phillip's favorites from previous shows performed once more and the song the Idols will record and release if they are crowned the winner of season 11:
Jessica Sanchez "I Have Nothing" by Whitney Houston
Jessica did well with the song, but it was a big 'ole song for her. It didn't swallow her by any means, but it could have been better.
Phillip Phillips "Stand By Me" by Ben E. King
A very calm, cool and collected Phillip started his set with the Ben E. King classic calmly, coolly and collectedly. What a very odd rendition of the tune, however. But the difference between his performance and Jessica's was … audience participation. That right there speaks volumes.
Jessica "The Prayer"
Again, nice … but I just don't see Jessica as the American Idol doing this kind of song. If I had to judge her as to whether she should be the Idol based on this tune alone, I would say she's boring. And she is … despite her outstanding voice.
Phillip "Movin' Out"
Versatility and *umph*. Some strangeness. And a smidge of unpredictability. This is what an American Idol is all about. And Phillip's got it in spades.
J "Change Nothing"
Wow. Interestingly, none of the judges liked this song. I'm not even certain Jessica was into it. That doesn't bode well. When you don't have confidence in the song you're singing, you're not going to sing it well … and that's something that came across in her performance.
P "Home"
Folksy and completely comfortable, "Home" wasn't a typical Idol first single. But it's a perfect one for Phillip and his style.
Let me make this perfectly clear, folks:
I do not have one shred of doubt Phillip will win the American Idol crown Wednesday evening. Period. No doubt in my mind at all.
Onward …
Photo Credit: FOX