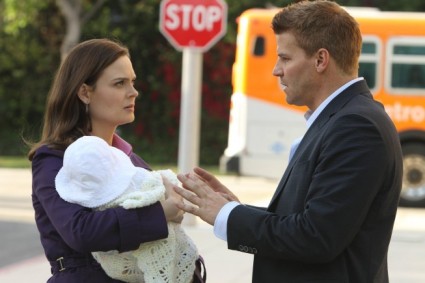 Is it normal to be disappointed in something actually you liked? I enjoyed this finale of Bones, but I don't think the show earned it. In the previous episode earlier this season featuring Pelant, he was set up as a pretty scary villain, but then we didn't hear from him again. Bones has previously done a wonderful job of setting up season long antagonists, but it seems that Pelant was given the short shrift.
I believe that Temperance Brennan's decision could be in her character, but it would take a great deal of prompting to get there. Sweet's profile of the killer, specifically the wording "hyper-rational" — and I'll get back to that momentarily — describes Bones perfectly, but it doesn't take into account her newfound love as a mother. When you put her daughter Christine into the equation, it is easy to game out a scenario that is weighted by her desire not to be separated from her child. The system, as Booth and Max were so apt to call it, was corrupted such that Brennan was caught in a trap that would never release her. If you can't trust the system to provide the "right" outcome, why bother trusting in it?
Cam's decision comes from a very different perspective and was obviously proven to be the correct choice. While Angela accused her of being an uncaring cog in the system, it was that choice that is going to keep the Squints on the case – and be Bones' eventual savior. I hated that Angela didn't seem to understand Cam's position, or the obvious pain it caused her to submit the evidence that resulted in an arrest warrant for her friend. This was probably my favorite part of the entire episode: Cam was originally brought to the Jeffersonian because she understood the law enforcement better than the other scientists. This episode proved how important she is to the Squint team.
Now to the negative, which unfortunately overrides most of the positive. Considering some of the "big bads" that Bones has seen over the years, it is hard to buy into Pelant being the one that finally is able to "beat" Bones and Brennan. From Howard Epps to the Gravedigger, hell even to Gormagon, the team has always prevailed. Obviously, that's going to happen here – next season – but elevating things to the point that Brennan is on the lam? That is a "win" that none of the other antagonists have ever achieved. I believe that Pelant is a scary dude, but it would be easier to swallow if the audience had seen more of him being a scary dude.
Speaking of Sweet's profile of the killer: does anyone think it could describe Pelant at all? I'm not sure I buy "hyper-rational" when he seemed to be driven much more by emotion than Bones ever has.
What did you think?
Notes & Quotes
"We're all set for Christine's baptism on the 19th. Are you still OK if I do that?" – Booth
"Absolutely. Sprinkling water on her forehead seems like an excellent way to counteract the sins she apparently committed prior to birth." – Brennan
"Don't be subjective. Don't make assumptions. Question everything." – Wendell
Nothing is what is seems, eh?
Did you notice that Pelant had "Air Force Juan" in his watched list?
Photo Credit: Patrick McElhenney/FOX