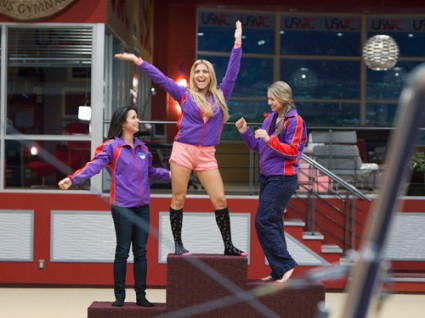 Make It Or Break It has undergone a revamping of sorts. First of all, the girls have left their homes and are bunking at the USA Training Camp in Colorado Springs. But that's not the only thing that's changed. There are some new faces this season — and a few missing old ones.
There's a new coach, for one — and a hard-nosed one at that (Coach McIntire, played by a stoic Dondre Whitfield). There's annoying, pixie-like gymnast Wendy — who looks like she could be Emily Kmetko's younger sister — who follows the Rock girls around showing off, prying, and just trying to fit in. And finally, there's scrappy vagabond Jordan Randall (Chelsea Tavares), who hitches a ride from Napoleon Dynamite's grandma and loiters at the training camp until her wish to be given a spot on the Olympic team is granted.
Throw in a mysterious condition causing Lauren to faint and have dizzy spells, and a brand-new, Olympic-themed opening sequence (short and sweet), and you've got a fresh season of MIOBI.
I could have sworn that Max had already told Payson that he was bisexual. Did that not happen? Did he only allude to this? I'll have to check my review of the Season 2 finale and see what I said. (Could I have done that before I wrote this? Of course … but it's so much more fun to have this conversation with you, invisible reader!)
I am torn about how to feel about Jordan. One one hand, she is very talented. On the other … back off, you crazy freak! Sure, take an unauthorized video after breaking into the gym and leave the memory card on the scary coach's side-view mirror. That is sure to work. Only … it does. I don't get it.
Jordan (who we're to gather has spent some time in the foster system)  has no home, while the Rock girls have it in many forms. They have the actual place, as well as the feeling of being wanted. Jordan seems like a misunderstood girl, soft on the inside but unwilling to display vulnerability. Smart, as we can tell from her stack of books she sets up in her tent. She answers to no one, yet she is begging for approval.  And she and Kaylie have a past, the details of which we're bound to find out sooner or later.
Another new face is the doctor/nutritionist that Lauren sees, who also happens to be Coach McIntire's wife. Why do I have this weird feeling that the coach and the nutritionist are going to end up being Jordan's real parents? Ok, ok, I'm probably way off there … I've been watching too much Lying Game.
The best scene was saved until the very end, when Coach McIntire gathers Lauren, Payson, and Kaylie and tells them to throw their Rock jackets into the fire. They are shocked, as was I. I can understand the coach not wanting them to remain too cliquey in order to focus on their own individual progress, but literally burning their bridge to the Rock, to Sasha, to where they all got their start? That was just depressing.
What predictions do you have for Season 3? And where on earth is Candace Cameron? I miss her.
Photo Credit: ABC Family