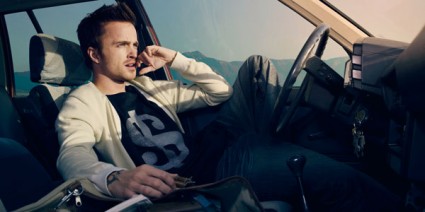 This season of Breaking Bad has seen its ups and downs. On one hand, it's been a superb season with its writing, acting and storyline details — it's as good as it's ever been. On the other hand, the characters have all become unlikable SOB's, and the ratings haven't looked so hot. Still, fans like me hold out hope that the series will improve in the ratings and will make the decision for AMC to renew it much easier (there are rumors that it's already a done deal).
The third season of Breaking Bad — which wrapped filming in January — is coming to an end, the first of the final two episodes airing this coming Sunday. And, from what we're hearing, these are two of the most intense episodes of the series. I got to speak briefly with Aaron Paul (Jesse Pinkman on Breaking Bad) the other day, and we talked a bit about these final episodes, his thoughts on another Emmy nomination and the future of his character.
Series creator Vince Gilligan has said that the last two episodes of this season has some seriously dramatic stuff going on, and, as expected, a lot of it involves Jesse. "The twelfth episode (this coming Sunday's), I was hovering over Bryan [Cranston]'s back as he was reading the script — re-reading it with him," Aaron said. "I just couldn't wait for his reaction, because they absolutely could have ended the season with the twelfth episode, because it is just so big. And in the thirteenth episode, they just go for it."
Vince Gilligan has said recently that he'd like to plan out an end to the series, so I got Aaron's reaction to that. "Vince … what a wonderful man he is. He says he doesn't want to draw it out, doesn't want to be the last person at the party. He wants to end it on a good note. I just hope we're able to tell our story and aren't cut short, but I don't think that's going to be the case. I think we'll be able to tell our story, whether it be four seasons or five seasons, but I don't think it'd going to be much longer than that."
Especially in this season, I've gotten the feeling that Jesse is nearing the end of a dark road he's been going down, and it's simply going to end badly. As in DEAD-badly. Since I knew it was unlikely that Aaron would flat-out tell me if I was right, I thought maybe he'd reveal it cryptically with answers to some of my questions. You tell me what you think.
KM: I imagine that knowing when the series is going to end better prepares you career-wise, knowing when you need to start planning the next step in your career.
AP: Yeah, I'd love to know when the end date is just to prepare me … emotion-wise.
KM: You must get pretty involved with the decisions Jesse makes, the risks he takes. That it could mean the end of him at any moment.
AP: Yeah Jesse is definitely a loose canon in a way. He definitely gets people into hot water. But I dunno, I hope that Jesse sticks around. I have such a love for this character and such a love for the show in general and have such a personal connection with this kid, and he's been so much fun to play. He's just kind of lost, you know?
KM: So I take it by your hope that he sticks around that he at least makes it through this season? Not going to end tragically for Jesse this season?
AP: (Laughs) I can't say! I can't say.
KM: So I'm not going to want to come back and reach through the phone and strangle you for leading me down the wrong path, saying "oh, I hope Jesse sticks around" and then he winds up dead?
AP: (Laughs) I dunno … I dunno.
KM: Well Walt definitely gave an ominous warning in the "Fly" episode, saying he wouldn't be able to protect Jesse if anything were to come up with that. Do we see that play out in the last couple of episodes?
AP: Oh man … I'll just say that definitely a lot of shit goes down. But I'm not going to say too much more. I don't want to ruin anything for you. But it definitely gets a little messy, that's for sure.
Last year Breaking Bad had several Primetime Emmy nominations, including one for Outstanding Supporting Actor, Aaron Paul. Will he be throwing his hat into the ring for this year's awards? "I think we're going to do a push. I know my name was submitted for consideration," said Aaron. "We'll see. I mean, yeah that was such a great experience last year."
As for what performance would be submitted for consideration, the final call is Aaron's. So, which episode would he pick, if or when he had to make the call? "I think possibly the 'Fly' episode," he responded. "There's just such an arc and it shows the dynamic between Mr. White and Jesse. I mean it's just funny and it's sad and there's so many levels to it. I dunno … what do you think?"
I'll leave my response out and let you decide: which episode this season would you say exemplifies Aaron Paul's acting chops?
Make sure you tune in to the last two episodes of Breaking Bad's third season, Sunday's at 10 PM on AMC.
Photo Credit: AMC