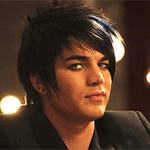 I, Julia Hass, have to confess something — I hate Adam Lambert.
Total shocker, right? I mean, especially considering the title of this post. But for me, this actually is pretty shocking. Because if you've known me for, say, a week, it becomes self-evident that I'm about 90% a secret gay man, and the other 10% is the biological structures that make me actually a girl. And as an undercover homosexual, I should tell you that there seems to be a pretty strong consensus among my not-quite people, which is this: Support Adam Lambert or you are not one of us.
He is everywhere in the internet gaytopia. Before the whole Perez Hilton/Miss California scandal, he was the hot topic du jour on sites like AfterElton (where he has won Gay of the Week an unprecedented five times and counting). Neil Patrick Harris (probably my favorite gay, and also one of my favorite people, ever) has publicly said that he and his partner both love Adam and are rooting for him to win. AfterElton isn't even pretending to be impartial — their American Idol livechat is subtitled "Don't forget to vote for Adam Lambert!"
Ever since the pictures of Adam came out where he's in makeup and molesting some other dude with his tongue came out, it seems like everywhere I turn it seems like scores of gays and friends of gays are coming out of the woodwork, going on and on about how great Adam is, how he's so innovative and original. And seriously? Are we listening to the same person? At all? Because I'm talking about Adam Lambert, that pitchy, consistently off-key screaming dude. You know, the one whose hair makes people cry? (I have heard it described as "bad lesbian hipster hair," which I do not necessarily endorse as a descriptor — I'm just putting it out there.) The one whose clothing gets more heinous and his eyeliner gets thicker and more raccoon-like as the weeks progress. That guy.I mean, he isn't the worst singer this season of American Idol has produced. There's always Megan Joy to scoop up that honor. And he has a few redeeming moments — his performance during Motown Week was pretty stellar, and he wasn't too awful this week. (Though saying he did well this week is like saying that Kris Allen would do well if the theme was "folksy songs about kittens in love.")
But he's pretty bad, let's be honest. He has a tendency to go sharp or lose his key, which he then covers up by making a screaming "gyaaaaa!" noise with his tongue sticking out, and cue the crowd collectively orgasming. And then after that, like clockwork,  Paula stands up and becomes moved to tears and Kara yells a lot of nonsense while Randy tells him to check it, dawg. And since I feel bad making my sister listen to me wail and yell and threaten to throw things at the TV every time we see his face, I usually go into the kitchen and find some ice cubes to chew on viciously, or something so I can temper my rage.
His cover of  "Mad World" was a beyond boring carbon copy of the Gary Jules version. "Born to be Wild" was just plain awful. I find "Ring of Fire" insulting on a personal level both as a huge fan of Johnny Cash and Jeff Buckley, who everyone compared him to. And I'm not even going to get into how sexually violated I felt watching his performance of "Feeling Good."
Look, guys, I applaud originality. I love singers who don't fit in a cookie-cutter mold. But sometimes I think what people forget is that just because something's new, doesn't make it good. Sometimes, things haven't been done or thought of because they're bad. And yeah, Adam brings a new way of interpreting songs that's theatrical and grandiose, but even that's not new. His glam-rock, old-school theatrical campiness has been done, and there's a reason it went out of style a long time ago. Putting a new melody on it doesn't make it less tired or tacky, and it's certainly not enough to make me wet myself like the judges do whenever he opens his mouth. (And let's pretend that last sentence wasn't nearly as innuendo-laden as it was.)  Once he's not forced to choose songs from different genres, I would bet lots of money that his album will be a lot of him screaming to neo-glam rock like he did this week, and be utterly, awfully forgettable.
My top pick, far and away, it's Kris. He's already released a record on a tiny indie label, and I've heard snips from it while it circles the internet. And let me tell you — it's good. Maybe not the most original thing I've ever heard, but good. The boy can sing and write a solid, enjoyable song that's like eating ice cream in the summer while slow-driving in the sunshine. On Idol I loved his arrangement of "She Works Hard for the Money," I literally screamed when he chose "Falling Slowly" (because I love that song so much it should be illegal), and I was amazingly impressed by his rendition of "The Way You Look Tonight." It doesn't hurt that he's so cute it's like staring into the eyes of a baby unicorn. Every time I see him I feel the inexplicable urge to share a malted in a diner with him and then have him walk me to my front door by nine before I give him my pin and we start going steady. Going any further with him seems, well, wrong. Like I'm corrupting him. Never mind that he's married and older than me, I still would feel dirty on a deep and personal level.
But I digress from my tweeny Kris-love. My point is this; I understand where you're coming from, gays. There isn't a lot of representation of you on television, much less on a huge show like American Idol, which, if your websites are any idication, you seem to tune into so faithfully. And that sucks. I understand what it's like to want your guy to win, because the last guy you had go even close to this far was Clay Aiken, and who wants to admit to being on the same team as is-he-or-isn't-he-Aiken?
If a guy can have pictures circulating of him licking another dude while being a full-on transvestite and still win Idol, that is one giant leap for homo-kind. And I applaud giant leaps. But do you really want to waste it on Adam Lambert? It's one thing to root for a guy because he represents you, but think about who you're choosing as your face, because that face? It's Adam "I Can't Hold A Key/Keep My Tongue Inside My Mouth/My Hair Was Attacked by Gardening Shears" Lambert. Where's your dignity? Your pride? I've listened to enough out and proud Broadways stars belt their hearts out to know that not only can you do better, but you deserve to do better. Now let's dump that loser and go back to ogling Jake Gyllenhaal together, the way we were clearly meant to.
Photo Credit: FOX