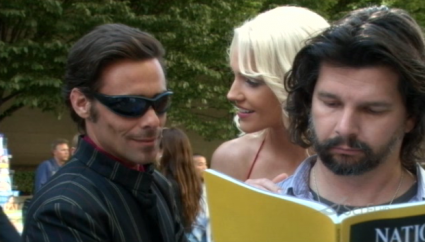 Well now, this is a little overwhelming. I've got three hours of this show — the FINAL three hours — to talk about, and it's tough to know where to begin. Alright, first, let's start with the screengrab above. Twenty geek points for anyone who knows who the bearded man is in the picture, minus twenty if you didn't say Ronald D. Moore. It was only a matter of time before the man made an appearance.
Alright, I know — I'm stalling.
Let me start with what was good, then end off with what was bad. (*GASP!* Yes, the bad).
The Good
The first half of the two hours of this episode (it really did flow like one episode, so let's just call it one) were exactly what I was hoping for. It was clear that all of the budget saved for this episode was put to good use in these effects sequences. My eyes were glued to the TV. I could tell those in the chat thought the same, since the chatter was pretty quiet during that time.
This next part is really strange, because it's a part I really liked while at the same time sorta hated: Tyrol's revenge against Tory and everything falling apart from there. You could see it coming with her warnings to the group, and then it just happened. Not only did that happen, but everything leading up to that moment — the ominous "final five" in the white robes, the opera house, the "deal" with Cavil — was all for absolutely nothing. Even Cavil had had enough of it and put a bullet in his own skull. I'm betting Moore absolutely LOVED that he pulled that stunt on us fans.
The Earth reveal, starting with the ships coming over the Moon. The final moments on present-day Earth, with the what-the-frak-are-they Balatar and Caprica chatting together about the future, the Ron Moore cameo and then, of course, the Hendrix version of "All Along the Watchtower."
And … that's about it. Not much there, right? So let's get into …
The Bad
Everything past them finding Earth, then before the final four minutes or so, was snooze-inducing. Not only that, but I spent the entire second hour wondering if I liked the idea that these people were our ancestors and that they'd make these really strange decisions. This is also around the time that the chat I was running heated up, and not because everyone was cheering — we were getting bored and getting confused.
Speaking of those strange decisions, the quick thinking behind sending all of the ships into the Sun to start anew and … AND letting the Cylon Centurions go on their merry way with even less thought was just … wow. I'm still trying to wrap my head around that. To think Adama would lose even a second's sleep over completely destroying the Centurions in one fell swoop is mind blowing. As one person in the chat said, why not land them on the dark side of the Moon, just in case? Adama said the Centurions returning was a risk, yet he decides to neuter any chance they'd have to defend themselves.
Hear that? That's the sound of my hand palming my face.
Now for that part I mentioned above that I liked, with Tyrol ending Tory. The part I didn't like was that we learned that pretty much that entire exchange leading up to that moment was for nothing. Tory was nothing. Cavil was nothing. Saving Hera, the opera house, Roslin's visions, Baltar and Six saving Hera … was for nothing. They found Earth without any of them and the survival of the human race didn't need Hera at all. It was all nothing.
Now there's Starbuck. We still don't really know what the frak she was, though we can assume, I guess, that the Kara who came back from the dead was actually an angel all this time, as was Head Baltar and Head Six. Angels … really. I'm going to have the notion of them being angels sit for a while longer — writing anything about it after a half-hour of thought isn't doing it justice. However, Kara being an angel in the same way the Head people were is against the apparent "rules" we've seen. Kara was interacting with things and people — touching and moving things that people could see.
Also, wasn't Head Six, you know, kinda evil?
We still don't really know how Starbuck — the first Starbuck — arrived at the first Earth. No idea what happened there. We also got no further knowledge about Kara's father, Dreilide Thrace. Maybe he's God?
The thought of all of these people starting from complete scratch, then not passing on their knowledge to the natives of the planet is hard to fathom. Well, so is the thought of our ancestors coming from another planet, but that's beside the point. Sending the ships into the Sun felt way too convenient, as was thinking everyone would be completely fine and on board with the idea of starting out as savages.
Wow, that's a lot more bad than good, isn't it? I've got to say, this finale doesn't go up there in the books as one of the best. I'm not even sure it'll be all that memorable. We ran a poll in the chat during the episode, and only a third of the people thought the episode was amazing. This should have been amazing, and it could have been. But don't ask me how I would have made it better — that wasn't my job.
In any case case, it was a fun bunch of years covering this show for you all. I started this out long ago on TV Squad, then leaving there to finish up the series here. Thanks to those of you who followed me over, including (but certainly not limited to) Dorv, bsgfan2003 (what will you call yourself now?!), Oreo, Tim-1 and akbar fazil. We've had some great discussions and I've enjoyed reading every comment you've posted. I'm not sure I'll be covering Caprica when it premieres, but hopefully you'll join in on other shows I cover now and in the future.
With that … *cue dramatic Bear McCreary music*
What do you hear?
Nothing but the rain.
Then grab your gun and bring in the cat.
Boom, boom, boom.
Photo Credit: SciFi