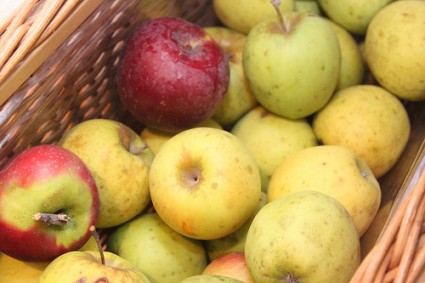 Join Debbie as she raves about whole foods, rants about chemicals and generally celebrates cooking and eating with fresh, local, nutritious foods. And sometimes she might get a little feisty….
Words cannot describe the perfect day of apple picking we experienced last weekend. Picture this: a gloriously sunny autumn day in New England, some of our favorite fellow foodie friends and a potluck picnic at the only organic apple orchard in Massachusetts. We really couldn't have asked for much more, except… pretty apples.
Note the above picture, for those are our crop of green crisp apples (with a few Liberty and MacIntosh thrown in). Don't get me wrong, they are completely delicious in every way and not in the least bit inferior to conventionally grown apples that are sprayed with, you know, lots of poison. But try telling that to the four-year-old.
It seems that any blemish on the skin of an apple constitutes a personal affront to Owen. To me, the little lumps and bumps on the apples are akin to the empty bag of skin that is my lower abdomen from carrying Owen for nine months — something to be proud of! They are like "the little apples that could"…. against all odds of wet weather and lack of sunshine this season, those organic apples grew strong. Despite not being sprayed with any protectants, pesticides, fungicides… they grew into the perfect fruit that we enjoy today.
Incidentally, if you've never had a green crisp apple, you are really missing something. They are super-crisp and just tart enough, the way I like an apple. You can have your whimpy red delicious, folks; give me a tart apple any day of the week.
And just in case you have more apples that you can chomp and enjoy, you could try making our favorite fruit crisp recipe with your extra apples. We did, and served it with some homemade vanilla coconut milk ice cream, using this recipe but omitting the cocoa powder and adding an extra teaspoon of vanilla extract.
Photo Credit: Debbie McDuffee