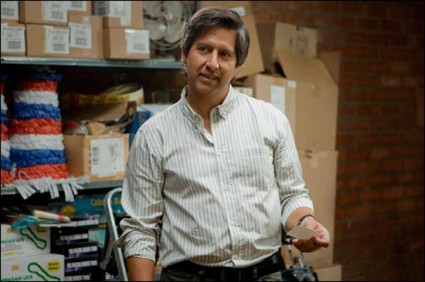 Tuesday has been a great day for TV series guest casting  news. Every time I fire up my RSS reader, it seems, something with a new high-profile actor has been announced, or at least rumored, to guest star on a show. Since I watch all the shows in question, I decided to take a look at how I think each actor will fit on the show in question.
The news that Ray Romano is going to do a guest arc on Parenthood as a love interest for Sarah is the most interesting piece of casting news, in my opinion. Anyone who watched the late, lamented Men of a Certain Age (so, about ten of us) will know that Romano has the chops to work well on a dramedy like Parenthood. His character on that show was rather lugubrious, so it will be interesting to see if Romano plays things differently against the high-energy Sarah. Lauren Graham is a great actress who manages to have chemistry with most of her scene partners, and I am guessing Romano will not be an exception.
That being said, this makes me wonder what will happen to Mark, who was last seen proposing to Sarah. The future of his character has been unclear because of Jason Ritter's uncertain future availability, but since his pilot for next season has not been picked up, he will probably still be around. This likely means a love triangle scenario is in the offing, but I find that disheartening. With the  age difference between Mark and Sarah's characters, there is enough to make their relationship interesting without having to go to that tired plot well. But maybe they really are just trying to work around availability issues with Ritter. If so, why not return to the dropped storyline about Sarah as playwright, for instance? We know she's still doing it, but we don't hear much about it aside from that. At any rate, even if the circumstances are a bit contrived, it will be nice to have Romano back on TV in a show I enjoy, even for a little while.
The other casting news of the day is that Michael Imperioli will be on the season finale of Necessary Roughness,  playing a record producer who interacts with TK. While the info is a bit vague, I think Imperioli will be a lot of fun on this show, especially if he is playing  against Mechad Brooks. Maybe TK will want to get into the music business? Imperioli just made a a very welcome return to HBO to guest star on Girls, and that reminded me that having him on my TV is a very good thing. I didn't watch Detroit 1-8-7 (or the American Life on Mars, for that matter), but I  hope its demise frees him up to find another full-time gig, maybe in a dramedy or comedy. After all, he was pretty damn funny at times as Christopher Moltisanti. Maybe his guest stints on Girls and Necessary Roughness are his way of testing those waters and stepping away from cop or criminal roles. He's an accomplished enough actor that he doesn't need to be typecast, after all.
Speaking of not being typecast, there is a rumor that Alec Baldwin wants to guest star on The Good Wife. This may be his way of easing out of his over-the-top Jack Donaghy character as 30 Rock ends … or it may not, since many of the guest stars on The Good Wife play exaggerated  characters. Even though this is just a rumor and likely won't happen, it would be quite a casting  coup for the  show, even though it's already got a ridiculously deep bench of guest stars. Since Baldwin is into politics, it may be fun to see him come on as a political rival of Peter Florrick's; I can imagine scenes of them furrowing their brows and making gravelly sounds at each other.
What kind of role would you like Baldwin to play on The Good Wife, if that ever happens? And what do you think of the news about Romano and Imperioli? What will Romano's role mean for Sarah and Mark? Let us know in the comments!
Photo Credit: TNT