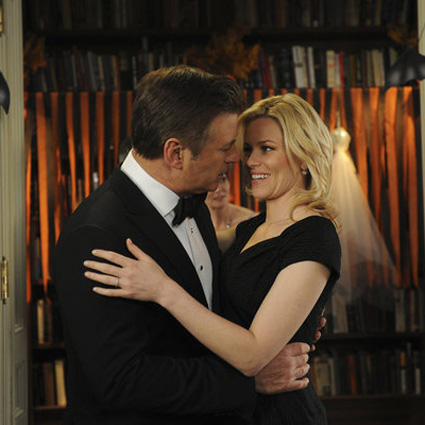 I love Elizabeth Banks' Avery Jessup character. But, the writers seem determined to keep the two apart including Jack claiming he loved two women to Avery's kidnapping to Avery's mother as an alternate love interest. In fact, Liz's warnings this season about the couple's imperfections seem destined for truth. Although this season seemed slightly flaccid, last week's Queen of Jordan focus brought energy back to the writing/cast and continued this week.
I loved the 1980's style newscast Avery did while abroad, her duping of Jack and Travey's reverse Eliza Doolittle of Jenna. I love Criss, but he feels like Floyd crossed with Dennis. Considering Lemon's seemingly perfect boyfriends (played by other high profile actors) all slipped away, I suspect Criss will eventually, as well. After six seasons, I've learned not to get attached to Liz's boyfriends. But considering Criss and Lemon just said "I love you," they definitely aren't ready to get married to each other, let alone get a "plant." The return to old topics this season (Liz's adoption) slightly concerns me.
Also, this week's punchlines came fast and furious. Other lines I enjoyed:
Jenna's sex column for her 14-year-old neighbor
Jenna telling Liz she can wear the pants in the family (but she can't pull the pants off because of her hips)
Jenna's knock off $17 Christian Louboutins (holla!)
The idea of Al Gore stealing George bush's idea for the internet
Jack French-Canadian kissing Avery's mom
Tracey thinking Jenna's tears focused on the lack of roles for women in their 40s ("nor should there be")
The street corner Elmo, Elmerg
Jack's erotic dream about an adult Dora the Explorer
Kenneth finding the positive connotation of ownership in the "her" pronoun
Whenever the writing staff plays with Jack's "heterosexual" personality (i.e. wearing Avery's nightgowns)
Crisspoints
Quotes:
"Playing psycho-sexual mind games is our normal, Lemon." – Jack
"It's only a dream wedding? Thank god. I did not want to attend." – Tracey (on Jenna's wedding)
"I heard her ask her bear who the dye job is." –Avery (on her daughter)
"Their meat is just deflated kickballs." –Avery (on her kidnappers)
Notes:
Seriously, do the writers have a quota of race and republican jokes this season?
Is anyone excited for the renewal?
Photo Credit: NBC