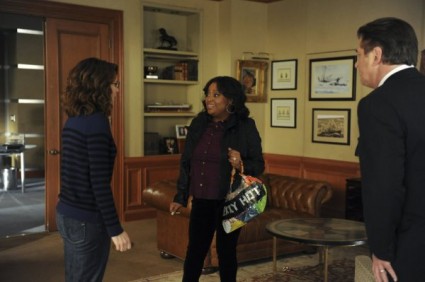 30 Rock took a break after their big live show last week to air Queen of Jordan, Angie Jordan's reality show. It was a classic episode the first time the show did it and Tracy's wife didn't disappoint this week either. Sherri Shepherd has always been great as Tracy's wife. I always love seeing her on the show, and being featured on these fun episodes is a real treat. Besides the big dose of Shepherd, we also get to see 30 Rock's writing staff skewer reality TV. It's good fun.
This week, Angie was opening up a new clothing line for plus sized women (and huskier gays) called Cheek (that's pronounced "Chiq" if you were wondering). It was a fun storyline, but I think the things happening around Angie were even funnier. Liz and Virginia feuding was hysterical and that baby actress was amazing. The looks of scorn that were flashed at Liz made me chuckle every time. I hope we get to see more of that moving forward. It also looks like it was hinting more at Liz getting a baby. Could things really work out with her and Criss? Tracy obviously thinks that her love life has been crazy enough. Maybe it is time for Lemon to settle down.
The episode also saw Mary Steenbergen return as Jack's mother-in-law (and love interest). It's going to be very interesting to see what happens between Jack and Diana and Avery when the younger Jessup returns from North Korea. I'm just excited to see Elizabeth Banks on the show again. The writers may have taken the joke about Jack and Diana trying to cover their tracks a bit far, but I did enjoy seeing them try to open a restaurant that served "all the pierogi from Costco followed by Burger King." Good times.
Quotes:
"Is this one of those ridiculous reality shows like Ken Burns's Jazz? Disgusting!" – Diana
"Jack has invested a lot of money in a restaurant I'm opening called 'Rus.' It is Russian cuisine. Who doesn't love cold purple soup?" – Diana
"I really don't watch TV … I'm more of a masturbator." – Tracy
Photo Credit: Ali Goldstein/NBC Universal