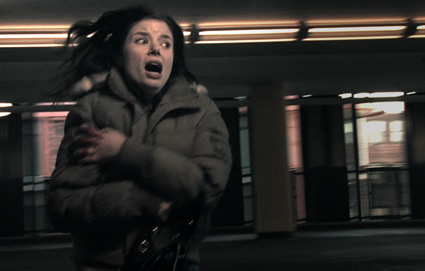 A touch of the black death, or something doing a remarkable imitation of it, kept me away from the webisode post last week. So, this week we have a double-shot of new shows, both of which are well worth your internet viewing time. First up is The Vetala – a supernatural thriller about a hostile, yet conflicted spirit from the pages of Sanskrit mythology. Then we have Compulsions – a dark serialized thriller exploring the compulsions of its three main characters.
The trick to keeping up with the webisode column is, of course, finding a steady stream of new, and worthy, shows to feature. I've found twitter to be a great help in discovering new shows. That's how I found The Vetala. A post from Taryn Oneill (Hurtling Through Space At An Alarming Rate) suggested that the show deserved more attention. After watching the seven episode first season, I couldn't agree more. And in a nice bit of synergy, Taryn will also be appearing in Compulsions later.
Starting with The Vetala, the first thing that struck me was how much it reminded me of Lumina, and that's a very good thing. As with Lumina, The Vetala starts out looking like a very different show than what it later becomes. The tag line about a spirit from Sanskrit mythology does give away more than a little, but the show builds slowly into just how that all fits into the bigger story. That's not to say you'll be left waiting for something. On the contrary, the series is filled with great moments that are shocking, and serve to pull you right into the next installment. The endings for  "The Syndicate" and "The CCB" are my personal favorites.
Written and directed by Damon Vignale, the show stars Candace Chase as Lily Callahan. The combination of the two is excellent. Vignale has done a terrific job pacing the episodes and crafting them so there is a constant momentum propelling the viewer through all seven episodes. And Chase's Lily immediately wins you over, making you curious about her circumstances and clearly placing you on her side in whatever this is all to become. Here's the first episode, "The Syndicate."
Compulsions is much less subtle about the introduction to its story. From the first scene we're dropped into the darkest part of Bernie Su's script as we see our friendly neighborhood sadist, Mark Sandler (Craig Frank) at work in his torture warehouse. It borders on grisly, but in that 'not actually seeing it makes it worse' way. That makes for a stark introduction to the series, which certainly sets a tone. But just as soon as you've started to process that we see day-job Mark going about his office-drone tasks. It's all very strange.
And it's just the tip of the iceberg, as we soon meet Mark's partner/handler in his off-hours hobby, Justine (Janna Bossier). As of this writing, there are only two episodes available, so we're still learning just what it is that is behind this strange and twisted relationship. But those first two installments are certainly worthy of a bookmark to see where it all goes. There will be eight episodes in total, released each weekday moving forward. Here's episode 1, "Unleash."
Finally, as a quick bonus, check out this trailer for a new Buck Rogers web series. Yes, that Buck Rogers. Not much is known about the show at this point, but apparently the plan is to release 20 webisodes based on the classic comic. Based only on the trailer, it seems to have some potential.
Photo Credit: thevetala.com