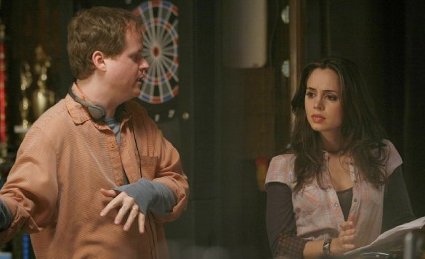 Friday is a big, big, day where Dollhouse is concerned. The sixth episode, "Man On The Street," is finally upon us, and all signs point to it being where the series really hits its stride. Or so we've been told, for weeks. (It leaves me thinking of those old Heinz "anticipation" commercials.) And it couldn't come at a better time for the show. After struggling through the first month, last week saw the ratings start to rise again. As part of the buildup for what has become the second premiere of the series, Joss Whedon held a conference call to talk about the show. After the break, his thoughts on the humor, the ick factor, the network, and weird sexual engagements, among other things.
Whedon was first asked about the fact that a number of people have said they're still waiting for the humor, the wit, and the snappy dialogue. Is that something that Dollhouse is going to have?
"There is humor in the show. There's a lot in the episode after "Man On The Street." But the fact of the matter is, this is not a comedy. And this is not a typical… well if there is a typical Whedon show… this is not it. It's not the light-hearted romp that the other shows were. There are always moments of funny, but it doesn't build like a comedy, and it's not designed like a comedy. It doesn't play that instrument. If people are feeling like it's too serious, then either their expectations have to change, or we need to lighten up a little."
Staying on the subject of why people may not be embracing the show, the next question had to do with the ick factor of the premise. Does the fact that the actives may not be doing all of these things voluntarily make the show uncomfortable?
"It makes me uncomfortable. I'm not going to lie. But for me it's part of what we're dealing with. We're dealing with people that have power and are abusing it. And those who don't, and are trying to regain it. In some instances, we want to show the Dollhouse is providing a service. In some instances we might see that Viktor is providing a service that somebody is looking for, and in others he's being abused. The ick factor gets very high. It's something that we can't shy away from without being a little hypocritical."
Next up, a question about the massive press push for the sixth episode. Whedon was asked if all the hype emphasizing that episode six is where he wanted people to get hooked could have had a negative side effect.
"There may have been a negative side to it. Because it may have said, 'The first five are crap!' which I don't believe. There's also the negativity of, 'Now he's blaming the network for the other episodes.' No, no, no, no. We did our best to try and figure out how to put the show together with a new paradigm, sort of under the gun, while we were in production. And then what happened with "Man On The Street" is that it just came to me as a concept really quickly. I pitched it to the network, and for the first time there was a real sympatico. They went, 'Oh yeah, we get that.' I wrote it faster than anything I've ever written. It just poured out of me. So it really was a game changer for us on set, and in production. The cast read it, and a lot of tumblers fell into place. That's how we felt about the episode. There may be some negativity to hyping it, but for all of us, the following episodes really work on the model of "Man On The Street." It was a big moment for us."
Asked whether or not we are going to find out just how Ballard came to be so obsessed with the Dollhouse, Whedon revealed that they don't really go back into his story in the first season because they are about to send him forward in ways he doesn't expect. And then joked that in season four, it's a whole two-parter. He also added later that we won't see how Boyd came to the Dollhouse either, but he's known since before they cast the role exactly what Boyd's story is. Fortunately, Whedon does say that we will learn how Dr. Saunders came to her fabulous career, adding, "In the last few episodes, we get to turn the Acker up pretty hot, and it's very exciting."
One of the more interesting questions had to do with how episode six evolved. Whedon was asked how much of it was him finding the show, and how much was the network relenting and letting him get it to a place that he wanted. His comments on the network's involvement in the process may be surprising to some.
"I think it was kind of both. "Man On The Street" definitely contains elements that were pitched or developed by people at the network. In terms of the motivations of the Dollhouse, and the feel of the politics of the thing, and what's going on. The sort of thriller aspect of it. It's not like, 'Oh, they've shut up and now I'll do it my way.' It's very much full of the stuff that they were pitching.  But it also is, storytelling wise, much more how I had envisioned coming at it. My original pilot was deliberately obtuse, and you had to come along and stay with it and sort of figure it out. This we go right up front. We lay it out as simply as we did in the first five, but we get to get inside the Dollhouse more and the events there take on much more resonance. It has what I had hoped to bring to the other episodes. It was really finding the code to a show that I can do my best work in, but the network can still really get behind."
There were a couple questions that tackled the issue of choosing the engagements. Why would someone, for example, go to the Dollhouse for a midwife? Whedon was asked if he thinks he's made that argument yet, or is he still working on it?
"We do work on it. And again, it's one of those things where because it makes sense to us, we look back on it and go, 'Are they with us?' But, you know, we've finished shooting. It's a little dicey. There were some of the engagements where we were like, 'Well, you could find somebody who might be that person.' But with a lot of the rich people, it's just become a status thing. We never spent too much time with that because we were never sure how much of an issue that was going to be. It's one of the things that's difficult about making a show when it's not airing. You don't have that feedback. What is the thing they need to hear?"
Continuing on that theme, he was asked about the sexual nature of the Dollhouse. It seems obvious that the biggest market for the Dollhouse would be weird sexual engagements, but the first five episodes touched on that very little. Was that a function of being a network TV show, or a case of not wanting the show to get that dark so soon?
"There were two things. One is yes, some people at the network said, 'Well, wait a minute, this idea that we've bought is illegal. And very racy, and frightens us.' There was definitely an element of, 'Should we tone this down?' that for me  was frustrating, because what I was selling them was dangerous ground. That's not to say that the only thing I pitched them was 'Echo has sex!' The idea was always that she would be doing a lot of different things. And I had a structure that the first few episodes was supposed to take us into, whereby the engagements would be shifting. She would be solving crimes, she would be helping people, she would be committing crimes."
"When I pitched it, you always do, 'It's a blank meets blank.' Mine was it's Alias meets Quantum Leap. I thought of her, more than anything, as a kind of life coach. As the kind of person you absolutely need, in your life, at a certain moment. To either change you, or comfort you, or take your life to the level that you want it to be. And that could be something nice, evil, sexual. It could be any number of things. It was never meant to just be the one. The one sort of took over, because it's the one that frightens people the most, and also interests them the most. So, yeah, I think we ended up not going there as much as we would have in the episodes because we were still in that dialogue with some of the people at the network. And you end up doing a disservice if you just sort of gloss over it and never hit it head on. Having said that, I still have no problem with the idea that a couple far off in the mountains would hire a midwife. Because, if that's my child, you don't want a stinker."
There were a couple other interesting bits, but to be honest, there is no way to even bring them up without spoiling things later in the season, so I'll hold off on those for now and add them in with the regular Dollhouse posts when we hit those milestones. More than anything, what I took away from the conference call was a sense of enthusiasm. The first five episodes of the show have been an up and down journey, but I'm more excited about Friday's episode than I have been for any of the other episodes, including the premiere.
Photo Credit: FOX