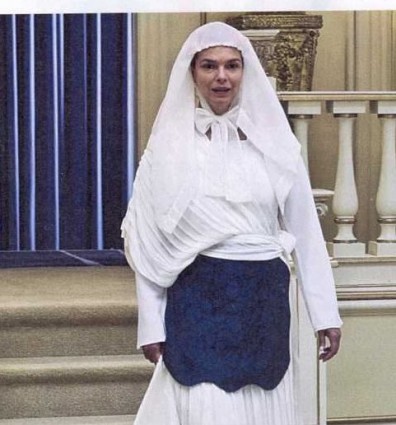 As I said in a recent post, about Big Love, even though I was raised Mormon, I still don't know what occurs in the temple endowment ceremony. From what I've read about Mormon reactions to the "Outer Darkness" episode, people seemed to think that the details were accurate, but the lack of context makes what was depicted meaningless to outsiders. I had thought along similar lines while watching the episode.
I wasn't disturbed by what was shown in the temple scenes of the episode. However, for the first time since watching the show, my Mormon background positively bristled with the inconsistencies and inaccuracies in this episode. Ultimately, to viewers who care more about the integrity of the story than the integrity of the religious details, these inaccuracies probably don't matter. However, in the context of the characters and the story, I'd like to set the record straight.
1. I had been almost positive that the show would depict the endowment ceremony as a flashback to when Barb had made these deep covenants in the church. However, in this episode, she begs her mother and sister to let her borrow a temple recommend so she can perform this ceremony the day before she is to face ex-communication.
Wait just a minute.
For one thing, a devout believer would never try to enter the temple on someone else's recommend, although ostensibly it could be done. As far as I know, the recommends are not yet photo IDs, though they have gone from being little slips of paper when I was a youth to laminated cards now. If Barb entered the temple as her mother, she couldn't have taken out endowments in her own name, so her vows would be invalid anyway. Also, her mother and sister were with her in the temple; whose recommend did she use to get in?
2. If you were facing ex-communication as a true believer, taking out your endowments would be the LAST thing you would want to do. Those are serious covenants, and they would be repealed with the ex-communication anyway. Everything she did in the temple was undone by her ex-communication. It doesn't make any sense. Even if it was something she felt she had to experience, she probably wouldn't play fast and hard with her salvation like that; as she told Bill, she was frightened. As I wrote in my post the other day, I don't know that I could have left the church if I had already taken out my endowments. For Barb to have done that would have made her ex-communication even more devastating than it was.
3. It's absolutely inconceivable to me that Barb had not already been through the temple to experience this ceremony. It's well-known in the series that Bill held a position in his congregation's governance. He was a faithful member of the church for 15 years; they were married and had children as Latter-Day Saints. Bill joined the church. It is inconceivable that they were not sealed in the temple during this time, which would have been predicated on first taking part in the endowment ceremony. I was able to overcome what I perceived to be inaccuracies; however, I was irritated by them.
4. Bill should have faced ex-communication at the same time. It was his testimony of plural marriage, and technically he is the polygamist. The show has dealt with Bill's crises of faith, so I am not sure why he didn't face the court (I have never heard the term "Love Court" before either — anybody know if that's accurate?) at the same time as Barb. Though, I'm not sure he would have cared, because he does not believe in the Mormon church. However, as a business man with a reputation to consider, that would have been its own kind of blow.
5. Barb wasn't facing Outer Darkness, despite the name of the episode. Mormons don't believe in Hell; what Barb faced was not being able to achieve the highest degree of glory in Heaven. Outer darkness (just what it sounds like– no light anywhere, endless darkness) is a fate reserved for people who know the truth about God and turn their backs on it. I mean KNOW as in God told them HIMSELF. It is widely acknowledged that this hardly ever happens. And it certainly wasn't going to happen to Barb.
And now, I am about to contradict what I said in point 2. Even though rationally, a person might not rush to take out their endowments while facing ex-communication, the thing that made me able to understand, emotionally, what Barb did was the scene in which Bill and Nicki had sex after Bill had told her he wanted to end the marriage. Presumably, after you plan to end your marriage, you don't turn around and have sex with your spouse. And yet, it happens. It's confusing and messy, but it happens. And I think the parallel storyline of Bill ending his marriage with Nicki was deliberate; Nicki and Barb are both facing ex-communication and devastation, and both acted desperately because they were desperate.
Despite the inaccuracies, I thought it was a very moving episode. I am not sure who I pity more: Nicki or Barb. Both storylines were excruciating in their own ways. What did you think?
Photo Credit: HBO