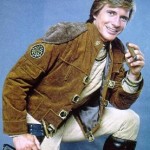 Some things you might not know:
1. Dirk Benedict — the original Starbuck and Face from the A-Team — is still alive!
2. He's a right-winger who is blogging for conservative entertainment blog BigHollywood.com, which is kind of like The Huffington Post except without the Greek accent or the cultural cache.
3. He believes that the latest incarnation of Battlestar Galatica is terrible because of its obvious liberal agenda.
Excerpts after the jump.  I'm telling you now as a friend, check them out.  It's like having a conversation about Sarah Palin with your grandmother, except your grandmother is Face from the A-Team!
On the Hollywood "suits" who ruined the original (and, according to Benedict the "good" BSG) by asking him to tone down his rampant sexuality:
"If Dirk doesn't quit playing every scene with a girl like he wants to get her in bed, he's fired." This was, well, it was blatant heterosexuality, treating women like "sex objects." I thought it was flirting. Never mind, they wouldn't have it. I wouldn't have it any other way, or rather Starbuck wouldn't. So we persevered, Starbuck and I.
(Read that closely: he's defending treating women like sex objects.  For real.  There's no irony there.  It's not like Mad Men where there's kind of a wink every time an ad exec slaps a secretary's bottom: he actually believes what he's saying!)
On how Lorne Greene would react to the new BSG:
I would guess Lorne is glad he's in that Big Bonanza in the sky and well out of it.
(Yep, you read that right, Lorne Greene would rather be dead than see what happened to BSG.  Really?  Lorne took the role of Adama that seriously?  I never knew that playing a space captain in what is widely considered an awful late-'70s TV show meant that much to Mr. Greene.  Imagine how the narrator of Lorne Greene's New Wilderness would have felt watching Wild Boyz on MTV….)
On the "re-imaging" of the show:
Witness the "re-imagined" "Battlestar Galactica," bleak, miserable, despairing, angry and confused. Which is to say, it reflects in microcosm the complete change in the politics and morality of today's world, as opposed to the world of yesterday.

"Re-imagining," they call it. "Un-imagining" is more accurate.
On how the show's moral ambiguity:
A show in which the aliens (Cylons) are justified in their desire to destroy human civilization, one would assume. Indeed, let us not say who the good guys are and who the bad are. That is being "judgmental," taking sides, and that kind of (simplistic) thinking went out with Margaret Thatcher and Ronald Reagan and Kathryn Hepburn and John Wayne and, well, the original "Battlestar Galactica."
(Notice the use of quotes to indicate sarcasm in that last excerpt.  Apparently any kind of fiction in which it's not immediately clear in the first eleven seconds who the good guys are is left-wing propaganda.  If only there was some kind of indicator that allowed you to see right away who was good and who was bad.  Perhaps a colored hat?  Or a mustache that could potentially be twirled?  Are there no right-wing social scientists working on this problem!?)
And finally, my favorite piece of writing perhaps ever put onto the internet, regarding how his character of Starbuck was turned into a woman:
The best minds in the world of un-imagination doubled their intake of Double Soy Latte's as they gathered in their smoke-free offices to curse the day that this chauvinistic Viper Pilot was allowed to be. But never under-estimate the power of the un-imaginative mind when it encounters an obstacle (character) it subconsciously loathes. "Re-inspiration" struck. Starbuck would go the way of most men in today's society. Starbuck would become "Stardoe." What the Suits of yesteryear had been incapable of doing to Starbuck 25 years ago was accomplished quicker than you can say orchiectomy. Much quicker, as in, "Frak! Gonads Gone!"

And the word went out to all the Suits in all the smoke-free offices throughout the land of Un-imagination, "Starbuck is dead. Long live Stardoe!"
Long live Stardoe indeed sir.
Photo Credit: Universal Studios