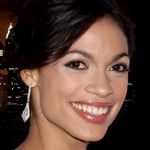 (Season 34, Episode 13)
I thought that last week's episode was one of the best of the seasons, and even wondered if Neil Patrick Harris was the best host of the season. I was curious to see if the cast and writers could pull off another great show. I like Rosario Dawson, but she isn't really known for her comedic chops. I thought she did well with what she was given, but overall the episode was pretty uneven. There were a few laughs, and it certainly wasn't the worst episode of the year, but I think in retrospect that nothing will really stand out from this installment when put up against some of the superior episodes from this season.
Let's break it down…
So what did you guys think? I have high hopes for Steve Martin next week.
Photo Credit: NBC