Scooby-Doo! WrestleMania Mystery pairs WWE superstars for paranormal pandemonium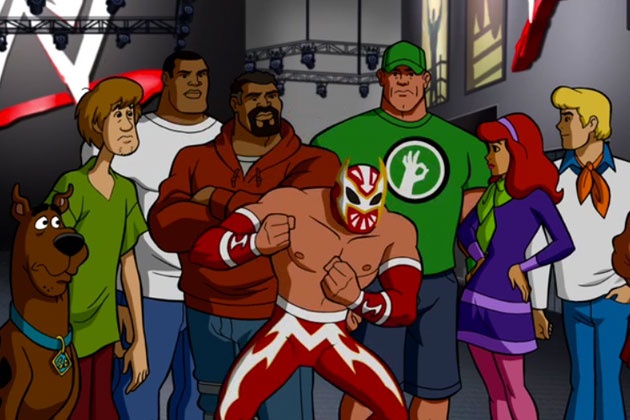 The superstars of WWE® and the Mystery, Inc. gang have combined forces in the all-new 'Scooby-Doo! WrestleMania Mystery,' now available on DVD & Blu-Ray. Is it destined to be a powerslam with fans of both juggernauts?
This latest effort has a nostalgic feel to it that immediately put my heart in a sleeper hold that wouldn't let go.
When I was given the opportunity to review Scooby-Doo! WrestleMania Mystery, I seized the opportunity. While I may not be a tried and true fan of the WWE®, I am a long-time Scooby-Doo aficionado. Out of all the incarnations of the popular cartoon series, my favorite was always The New Scooby-Doo Movies, which aired from 1973-74 and featured special celebrity guest stars in each hour-long episode. Real-life and fictional stars such as Don Knotts, Mama Cass Elliot, Dick Van Dyke, The Three Stooges, The Addams Family, Batman & Robin and the Harlem Globetrotters would aid the meddling mystery-solving gang of teenagers and their pal Scooby-Doo. This latest effort from Warner Bros. Home Entertainment and WWE® Studios has a nostalgic feel to it that immediately put my heart in a sleeper hold that wouldn't let go.
Seeing the animated wrestling superstars (and there are several appearing in this movie, including John Cena, Triple H, Sin Cara, Brodus Clay, AJ Lee, The Miz, Santino Marella and Kane) alongside the gang harkens back to the days of yesteryear, which I think is a win for both popular, long-running franchises. When I first heard about the concept I was a little skeptical, but the more I thought about it, it actually makes sense to combine the Scooby-Doo franchise with that of the wrestling one. Since children are still one of the biggest key audiences for both arenas, why not take two things children love and combine them into a permanent piece of pop culture history?
There is certainly a lot of crossover appeal in this DVD. The over-the-top antics, larger-than-life personalities and bold, colorful costumes of professional wrestling lend themselves especially well to the over-the-top cartoon format of a talking dog and his stoner best friend traveling around and solving mysteries while gorging themselves. Even if you know relatively little about these WWE characters (I'd fall into that category), the laughs keep coming from start to finish. For example, I've never even heard of The Miz but he is now my favorite wrestler because he stole the screen for me at the beginning when he was jogging along chanting, "Who's awesome? I'm awesome!" He was hilarious and adorable – two winning qualities in my book!
It was awesome to see people from the '80s like Jerry "The King" Lawler and Sgt. Slaughter even if they didn't have speaking roles. 
After Shaggy and Scooby-Doo play a wrestling game and unlock a super-secret dance level, the Mystery, Inc. gang wins ringside seats at WrestleMania. Once they arrive to WWE City, they learn there is a mysterious ghostly bear threatening to ruin the show by planning to steal the WWE championship title belt and shutting down the power during the main event. Naturally, the gang does what they do best and they immediately go about on their quest for gathering clues. Along the way, they are aided by past and present wrestlers and other WWE personalities, including Vince McMahon himself. It was awesome to see people I recognized from the '80s like Jerry "The King" Lawler and Sgt. Slaughter even if they didn't have speaking roles. I think this will give the movie more appeal with nostalgic adult wrestling fans who probably also remember seeing the '80s stars in animated form. (Hulk Hogan was everywhere during my childhood – do you remember his Rock 'n' Wrestling cartoon, brother?) I also have to say Kane is still really creepy even in animated form. If I were a child, I'd probably be terrified of him, and I'm not ashamed to admit that.
Some of the funniest sequences involve Daphne's instacrush on John Cena. From the moment he appears out of nowhere to aid with their stranded van and removes his shirt revealing his sinewy biceps in the moonlight, Daphne starts fantasizing. She quickly becomes his number-one cheerleader and tells Fred that she has given Cena her cell phone number, email address, home address and scarf size. Another funny moment involves a dream-walking sequence with Scooby-Doo wrestling food that is sure to make the inner kid in all of us smile. I'm not going to reveal who would've gotten away with it if it weren't for those meddling kids, but I was mildly disappointed to see it wasn't McMahon. Actually, I thought it was pretty obvious who was behind it all, but maybe it won't be to the kiddos.
There are many visual gags to appreciate, ranging from the name of the restaurant the gang eats at in the beginning (The Burger Binge) to the names of the businesses in WWE City (Sleeper Hold Hotel, Tombstone Tacos, McMahon's Waffle House, Royal Rumble Ribs, Tap Out Diner, etc.) to the fact that the announcer's table keeps getting destroyed by flying people and objects from the ring. The DVD also contains two bonus features that were particularly interesting to me. The first is a behind-the-scenes look at the voice talent – you get to observe the wrestlers goofing around while doing their voiceover work, as well as interviews in which they reminisce about watching Scooby-Doo when they were kids and how much of a big deal it was to many of them to be included in this project.
I commend Warner Bros. & WWE for tag-teaming this new special destined to become a classic incarnation of Scooby-Doo.
The second bonus feature is a wrestling-related episode of A Pup Named Scooby-Doo, which is an incarnation from 1988-91 that was another of my childhood favorites. It took me back to the days when I still woke up early on Saturday mornings to watch cartoons, and I hadn't seen that particular version of Scooby-Doo in many years so it was a welcomed sight. All in all, I would have to commend Warner Bros. Home Entertainment and the WWE for tag-teaming this all-new special that I think is destined to become a classic incarnation of Scooby-Doo for the ages due to the fun nostalgic-powered energy from start to finish. Scooby-Doo! WrestleMania Mystery was paranormal pandemonium in the ring at its finest.
Scooby-Doo! WrestleMania Mystery was provided by Warner Home Video for review.
Photo Credit: Warner Bros. Home Entertainment/WWE® Studios