Head on up Schitt's Creek, no paddle required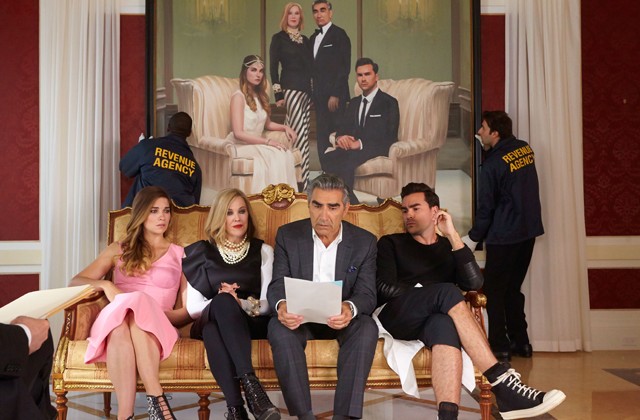 Eugene Levy and Catherine O'Hara join forces again as a husband and wife who find themselves hilariously up 'Schitt's Creek.'
What's an upstart network — or a rebranded version of an old network — to do to attract new viewers to the channel? With hundreds of options out there, what's the best way to get people to sample your new wares? How about purchasing a Canadian sitcom with a provocative title starring two comedy legends!
The new POP TV network, formerly TVGN, has launched with a new scripted comedy from the minds of Eugene Levy and his son Daniel. The show, Schitt's Creek, also stars Levy's longtime comedy cohort Catherine O'Hara so you know the show just has to be funny, right? I'm very happy to say that yes, it is very funny.
The premise of Schitt's Creek is a typical fish-out-of-water scenario: Levy and O'Hara star as Johnny and Moira Rose, an obscenely wealthy couple with two children, David and Alexis, who find themselves suddenly homeless and virtually penniless after their accountant neglects to pay their taxes and absconds with their fortune. The one thing they are left with is a small town Johnny purchased as a joke, the aforementioned Schitt's Creek. With nowhere else to go, the Rose's embark on a journey to regain their status from the middle of nowhere.
Of course, this is certainly not a new story, but Levy, O'Hara and the rest of the cast manage to breathe new life into it. In the first four episodes that have aired, the Roses have been forced to live in a shabby motel (emphasis on the M) with a snarky front desk attendant while Johnny attempts to put the town on the market, not knowing it had been for sale for twenty years when he originally purchased it. Moira and the kids are completely out of sorts, and the skeevy mayor of the town, played by Chris Elliott, is a thorn in their side.
Catherine O'Hara brings her comedy genius to the role of Moira Rose.
O'Hara is probably the funniest of the cast because Moira is the most broadly drawn of the four Roses. She was a former soap star villain (the mayor compliments her on her "bitch face" even though she's not doing anything at the time, and begs her to slap him like she did on her show), accustomed to all the best things in life and now lives out of a single, hideously furnished room with leaky plumbing. The mayor's wife asks her to help her students with a school play which goes hilariously awry, and she has no control over her entitled children.
No one can play befuddled and exasperated as well as Eugene Levy.
No one can play befuddled and exasperated as well as Levy, and he keeps Johnny the most firmly grounded of the family. He's almost the straight man to all of the antics going on around him, from dealing with the mayor to dealing with his kids — whom he usually puts in charge of Moira to no avail. Annie Murphy plays entitled Alexis well, kind of bringing to mind Paris Hilton on that reality show she used to do with Nicole Ritchie. Daniel Levy's David is just as broadly drawn as Moira, getting some of the show's wittiest and bitchiest lines (the funniest bit in the premiere focused on his and his sister's sleeping arrangements and whose bed was closer to the door … "No, you get murdered first!"). And it has yet to be addressed, but David is also the gayest thing on two feet, which may lead some to question what could be considered a negative stereotype … but I've seen Daniel doing some hosting work on MTV and, well, he's not really stretching the character all that far. I, for one, think he's pretty funny in a Jack McFarland kind of way.
Schitt's Creek is a family comedy that's just a little off the beaten path.
Schitt's Creek, so far, has been funny although a bit uneven at times but each episode has had at least one big laugh-out-loud moment. The first season consist of ten episodes and has been renewed, in Canada (even before the show aired), for a second season. POP has only committed to the first season as of now. If you're looking for a family comedy that's just a little off the beaten path, then by all means take a trip up Schitt's Creek. You can catch up on the previously aired episodes On Demand, and special webisodes on the show's official website. Schitt's Creek airs in the US on POP Wednesday at 10:00 PM ET.
Photo Credit: CBC Television