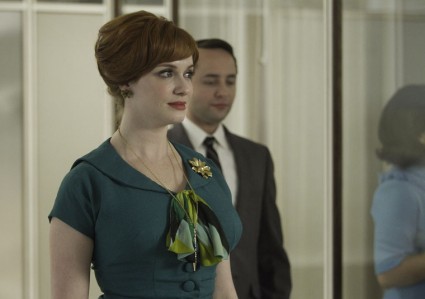 Mad Men went to some very dark places in this episode, and I have to say that I am still trying to shake myself free of this week's story. The events that went down with Joan and Jaguar were downright deplorable and I think any respect that I may have had for Pete Campbell is completely gone. The fact that the other partners were willing to go along with the plan doesn't speak too highly for them either. There was more going on in this episode though, as Peggy made a big decision and Don and Megan continued to fight.
The big event, though, was Joan spending a night with the head of the Jaguar dealers in exchange for the support of Sterling Cooper Draper Pryce in getting the ad business. Joan herself also received a five percent stake in the company, along with a vote as partner. Frankly, the entire story was beyond distasteful for me, and I'm trying to figure out if I'm more upset with the desperate men of Sterling Cooper Draper Pryce, or the writers of Mad Men. No one should be put in that situation, and while it made storytelling sense, I still didn't like it. We can rest assured, though, that this is going to have some large scale implications as the show moves towards the end of the season.
Don was the one partner who did not support the dirty dealings with Joan, unfortunately he was heartbreakingly too late to convince her not to do it. It certainly says something when Don Draper is coming off as the pillar of morality in the group. Of course, to be fair to the rest of the partners, I'm not convinced that Don's distaste was completely altruistic. After all, Jaguar was set to be his triumphant return to being a creative genius. Not only was he not responsible for the tag line or idea for the campaign, but now there is going to be the question in his head whether or not SDCP even had the best pitch.
The one thing that I can say is that it will be nice to see Joan wielding some actual power around the office. It will be interesting to see what she does as a voting partner with the rest of the men (who prostituted her out to get a client). The events of the episode are clearly going to have an impact on Lane, as well, who admitted that he had feelings for Joan, even suggesting that she demand a stake in the company. Are we going to see the two of them grow closer, or will selling herself only drive a wedge between them?
The writers did set up a nice juxtaposition, with Peggy also naming her price, in a completely different context. It's hard to blame Peggy for moving on, especially with the offer that Ted Chaough gave to her in the diner. It was some nice acting between Jon Hamm and Elisabeth Moss when Peggy gave her notice to Don. I'm very curious to see how this move goes. Will Don look to get her back at some point? Will Peggy be miserable at CGC. I could certainly see the move as being Chaough just trying to get under Don's skin. Does he even really want Peggy? The big smile on Peggy's face as she entered the elevator at the end of the episode leads me to believe that this was probably the right decision for her.
Finally, Don and Megan continue to battle. They do, however, seem to be making progress. It was just in last week's episode that Don was sniping at Megan about shunning advertising. In this episode they were talking about it calmly, Megan even teasing the writers working on the Jaguar campaign. It seems like there is always something for these two to fight about though, and this week it was back to Megan's attempt to make it as an actress (with another reminder of the distasteful treatment of women in that time).
As we head into the end of the season there are certainly a lot of opportunities for a heck of a lot of drama. I'm looking forward to seeing how the season ends, even if this episode left me wanting a shower. How did you feel after watching "The Other Woman."
Photo Credit: Jordin Althaus/AMC