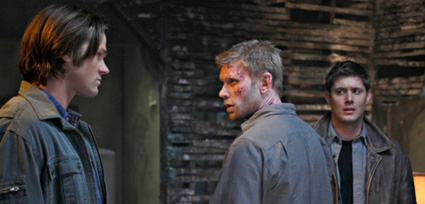 After five years, it all comes down to this. And really, the big finale was nothing like I imagined. With so much build-up and hype revolving around the showdown between Michael and Lucifer, I was expecting some kind of epic battle. Thinking that when they finally did meet on the chosen field there would be lightning bolts and the earth opening up. Not so much, right? And I'm OK with it.
While this wasn't what I expected, it did a lot of things right. First, the idea to frame the whole thing with Chuck writing his last book was a good one. It makes sense, given that he is the prophet, to have him involved. And I especially liked that Dean once again called on him to get a leg up. If I have one complaint about Chuck's role here, it's the business with the car. It was clever, walking through the history, but at the end of the day, the car wasn't the most important thing. It was, as it has always been, the bond between Dean and Sam.
While the car, as Chuck alluded to, may have represented their home, the people inside the home are always more important. Sam's awakening, and the flashbacks that followed, could have just as easily been triggered by looking to Dean, who was once again there to protect Sam, even at his own peril. And, I would argue, that would have been better. But those are awfully small potatoes in what was a very big story. A story that twisted its way through a series of fascinating conversations.
Starting with Sam and Dean, and them finally getting on the same page with the plan. It felt like it was finally the end of the up and down journey the two have been on. It's been a huge struggle where, at times, we didn't know which way things were headed. It also answered what was my biggest question about the plan: what happens after Sam goes in the box? The answer — "You know I'm not coming back." — was a heavy reminder of the stakes.
Then we had Lucifer and Sam. The beginning was great, as Lucifer let on that he knew about the rings, even dropping in a Charlie Daniels lyric. His willingness to just accept Sam's plan was unexpected, but worked very well. I really liked the way they showed both versions of Sam, conversing. And it was a nice callback to the days of dark Sam as Lucifer tried to entice him with how this doesn't have to be a bad thing, and offer him his chance at revenge against Azazel's minions. All of that demon blood at least hinted that Sam could be swayed, but I think we all knew different.
Michael and Lucifer were interesting as well. Although we didn't get the huge battle some might have expected thanks to Dean and the boys, their roles in the initial conversation were quite telling about who both of them are. Lucifer, as ever, trying to work an angle. "God wanted the devil." "Let's just walk off the chess board." And Michael, always the good son. "I have my orders."
Of course, in the midst of all of that, we have Castiel with the line of the night, "Hey, Assbutt!" It was such an oddly timed comedic interjection, but I loved it, because it was a very Supernatural moment. It also lead us right into the big showdown, which didn't end up as Lucifer vs. Michael. Rather, it was Sam and Dean against Lucifer. And as Castiel reminded us last week, the Winchesters have a habit of exceeding expectations.
That brings us to the big ending. Or, as I see it, endings. As we made our way to the end of season five, I was wondering, what if this was the end of the series? Will the sixth season change what we see? It did, but I think we still got that end-of-the-series ending. As Chuck talked about how endings are hard, and then vanished, it could have stopped right there. The story was complete. You could even make the case that Chuck makes a very nice stand-in for Kripke in that moment. Talking about how ending the show is hard, and then fading away as it's handed off to season six. And because of season six, we got the little teaser of Sam standing on the street looking in on Dean. Which leaves us all with some questions to ponder over the summer.
First, is that Sam, Lucifer, or both? How did he get out of the trap? Is he making sure that Dean is finally at peace? Or planning some sort of revenge? The look didn't really tip his hand one way or the other. There's not a lot to go on. But it's just enough to have me already looking forward to the show's return next fall. Taking both of those endings into consideration, the finale was a success.
Photo Credit: CW