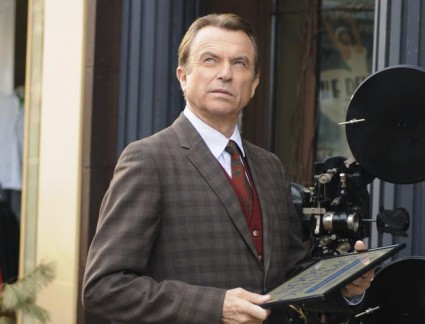 The most I saw of Twin Peaks was the totally strange movie, Fire Walk with Me. So, maybe it's not fair of me to make any sort of comparisons between the two shows. Honestly, though, I don't want to compare the two shows, because — as far as I know — it's not claiming to be another Twin Peaks; if ABC is promoting it that way, then I missed those promos. OK, so it has a place name in the show title (though the place is actually Haplin, not Happy Town), has a murder mystery and odd characters — does that mean people have to say it stinks because it's not Twin Peaks? Come on, people.
So far, I'm totally engrossed with the mysteries at hand. I'd say there's more than one overall mystery here, because there's the railroad spike murder in the ice fishing shack, and then there's the "Magic Man," and I'm not yet entirely sure they're completely related. Within those two big mysteries we've got a few other minor head-scratchers, some that are doozies on their own:
– What's on the third floor of the boarding house? (Having seen the next two episodes already, I know the answer. But I'll leave spoilers out of this.) There was a decent reveal that Henley is part of a group out to find answers to the Magic Man mystery, but what does she hope to find up there?
– What's the deal with Mr. Grieves, the "House of Ushers" owner? Is he evil? How can a store like his survive in such a small town? His interaction with the sheriff certainly felt sinister, and I'm left half wondering if Grieves put some sort of curse on his wedding band to make him go all crazy and hatchety at the end of the episode.
– What's Tommy Conroy's (Geoff Stults) past with the Stiviletto brothers? Those guys are the out and out filth of Haplin, and I half wonder if they can even afford to wear shoes on a regular basis. I simply can't imagine Tommy hanging out with those guys at any point in the recent past, so perhaps things were different many years ago, when they were all younger and hanging out together, doing things Tommy's sheriff dad wouldn't approve of.
– Who is Chloe and why does the sheriff (M.C. Gainey) seem to come in and out of some sort of trance about it? Is he really hiding something or is he simply losing his marbles? Is this "Chloe" a nobody and just a bunch of weird gibberish caused by a brain malfunction?
Back to the larger mystery at hand, why did the Magic Man suddenly stop his abductions five years ago? Grieves said that the Magic Man started 12 years ago, taking one person every year for seven years, the last one being an 18-year-old girl five years ago. It's pretty obvious that the timing there is crucial to the story. These people taken by the Magic Man are merely missing, not dead. The last abductee would now be 23, and I believe that will wind up being key. Maybe there really is no Magic Man, and these people just found a way to leave this "happy" town and on to better places?
There are some people who were disappointed that Amy Acker left Dollhouse to star in Happy Town, but at this point it's hard to argue that she made a wise move (though I doubt she did it due to lack of faith in Dollhouse's future). It's way too soon to judge this show as a stinker, but three episodes in and I'm still hooked. It'd be a real shame if this show saw an early grave because too many people are panning it as "it's not the great Twin Peaks!"
I honestly think too many people are trying to compare Happy Town to something else they loved, and hating it because it's not that show, rather than let it stand on its own. Come on, how is this bad? If you're a television critic and you called this show awful, you're just jumping on the bandwagon of hate that this show doesn't deserve and need to think for yourself, for crying out loud.
What about you: were you happy with Happy Town?
Photo Credit: ABC