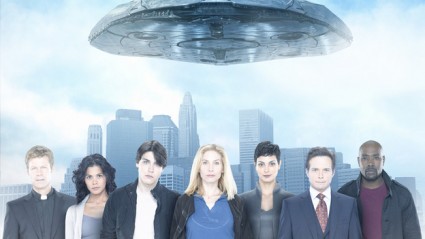 After weeks of heavy advertising and two months in to the new television season, the re-imagining of V is finally here. Tonight was the first episode of the series, and boy there was a lot going on. To say that it felt rushed would be an understatement. The original series started with a long, suspense-building miniseries. This pilot episode was almost completely devoid of the slow, intriguing build up that the original featured. Instead, it was all action and introduction.
That may not necessarily be a bad thing. This show clearly has a lot of potential. I'm just not sure if that's potential to be great, or potential to be a huge disappointment.
Any questions about the visitors or suspense about their nature were pretty much answered in this episode. I think that was a mistake. The show really could have built up a great "are they evil, are they not evil" guessing game for at least three or four weeks. There are only four episodes being aired this month, with the remainder of the season returning in March. I think it would have been great if these first episodes were more like the miniseries, a slow, mysterious build up to the big reveal that the Vs are really human-hating lizard-people. Perhaps the showrunners thought that the original miniseries would be too fresh in the minds of the viewers, and that any potential surprises would be spoiled.
Enough with what could have been, though. The series is what it is at this point. Is it going to be a success? I'm not so sure. It could be great. If things hold steady (and if the previews are any indication) there is going to be a lot of action and a little bit of suspense moving forward. Morena Baccarin did a great job as the creepy Anna, and I think it will be fun to watch her continue to manipulate the hapless Chad. I think that her character was probably the highlight of the evening for me.
I love Elizabeth Mitchell from her time on Lost, and I'm glad that she is being put out in the front of this show. I think it's too early for me to form a real opinion on her character, and Tyler, her character's son. Their relationship and storylines could go either way, I think. Tyler could end up being an annoying, frustrating impetuous teen, or there could be some really interesting dynamics between he and the young Vs. At the same time, I'm hoping that the conspiracy and Erica's story manages to have a little bit of intrigue, and doesn't simply consist of running away from little flying killing machines.
I'll leave you with what I thought was the best moment of the show. I loved the dig at Independence Day. It was a subtle nod to the original V miniseries, and nice way to call out Independence Day for being a cheap (or rather, very expensive) rip off of the original.
What did you think of the pilot of V?
Photo Credit: ABC