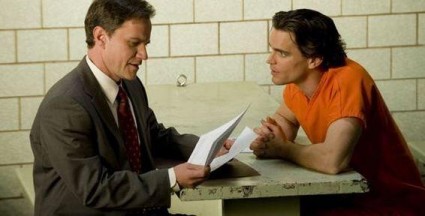 This could end up going one of two ways. Option "A" says USA Network churns out a hit each and every time it goes to bat, specifically because of the tried and true formula applied to every one of its original series. In this scenario, it makes no difference that the network is increasing the amount of new series it produces per year: each one is ratings gold.
Option "B" says with higher quantities comes lower quality. Just look at Leno's new show for a prime example. The thing is, while I can't predict the future, I can tell you this after screening the pilot episode: less than six months after premiering Royal Pains, USA Network has done it again with White Collar. NOTE: MINOR SPOILERS MAY LIE AHEAD.
Matthew Bomer plays Neal Caffrey, a white collar (get it?) criminal who's been in prison for the past four years, courtesy of FBI Agent Peter Burke (Tim DeKay). Caffrey escapes from prison, only to be re-caught by Burke, and then, instead of being sent back to prison immediately, used as a consultant as Burke chases The Dutchman.
Fairly simple, and if it sounds familiar that's because it's been done to varying degrees on movies like Catch Me If You Can (some of Caffrey's clothes may bring that one back, too) and 48 Hrs. But then we come back to what USA Network does best: original characters. Caffrey and Burke are great as a mismatched pair, even if Neal's on somewhat unequal footing in the partnership. And not just as criminal to fed … I think Bomer may have been struggling at times to get it just right, "it" being a combination of arrogance, subservience, ego, gratitude, intellect, and a man out of his depth that his character must portray. Burke also needs to appear slightly more grizzled than Caffrey, and I think Bomer was making up the difference by decompensating, instead of the other way around.
But that being something that will likely iron itself out by episode two, I have no doubt that Caffrey and Burke will remind you, as they did me, of a certain other set of mismatched fellows: our Psych boys. Speaking of which, to give you network fans a quick rundown of White Collar: think the camaraderie of Psych, mixed with the law enforcement of In Plain Sight, and a dash of the creative nature of Michael's problem-solving on Burn Notice. Put it all together, and "you have no idea how high [it] can fly" (Michael Scott, The Office).
Caffrey can also seem a bit slapsticky at times, but I think that might be the devil-may-care in him. Besides, who (Shawn) isn't like that? Anyway, the series rounds out nicely with what are for the most part some interesting characters (there it is again!). Neal's love, Kate (Alexandra Daddario), has little role in the pilot, but will clearly be a factor in his life going forward. It's unclear just what it is that's going on there. June (Diahann Carroll) and Cindy (Denise Vasi) appear ready to play landlord (former) and bedmate (latter) to Neal, although my guess is that both will appear on an infrequent basis. I imagine that June could develop into a story of her own (as a confidant to Neal OR Peter, or in reference to an allusion she makes to her late husband), but it's not definitive that she will, at least as far as I can tell.
At work, the third member of the team is Diana (Marsha Thomason), Probie extraordinaire. Where I didn't like her as mysterious on Lost, or a bit slimy on Make It or Break It, I found Thomason to be quite good in this role. She even looks younger, making her more believable as a rookie in Burke's unit. That was some good casting. His wife Elizabeth (Tiffani Thiessen), on the other hand, was not. What did Burke — or DeKay, for that matter — do to deserve her? I'll spare myself reliving it, but no.
I was surprised to see, after watching the episode, that Caffrey's friend Mozzie (Willie Garson) is cast as a series regular. Not because there was anything wrong with him, but rather because … well, let's just say going in I thought Caffrey would be more self-reliant. But I think Mozzie may be more significant as a friend, than as the criminal that he is. Enough said on that.
I was left wondering if Caffrey was more a charmer than a con artist, but I suppose Leonardo DiCaprio's Frank Abagnale Jr. was a charmer, too. And I like Bomer. I think he was a whole lot of nothing on Chuck, but Traveler intrigued me as a concept, and I liked his character on that show a lot. DeKay, on the other hand, wowed me in a different way on HBO's Tell Me You Love Me, and I've been happy to see him pop up on assorted shows.
Now they both have another shot at a hit, and I think they've got one. See for yourself when White Collar premieres on USA Network, Friday night October 23, at 10PM. Characters most definitely welcome.
Photo Credit: USA Network