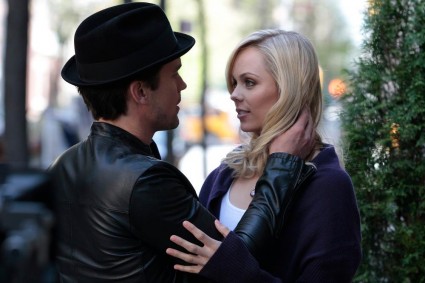 Neal Caffrey showcased his charming side in "Parting Shots" when he subtlety seduced a widow to save her life. With their shared love of the arts, it's almost a shame they didn't give a legitimate relationship a try. She could use someone has caring as Neal to move on from her deceased husband.
Only it wasn't to be. And, that was okay because Sara was back! I've always loved Neal and Sara together. While Neal had secrets from Sara, she knew his faults and loved him anyway. In a way, she was his romantic Peter. After spending years chasing him, she met him, and despite his shady past was able to see the good heart inside.
And, now Sara and Neal have something in common besides stolen art — searching for someone. Sara has been looking for her missing sister, Emily. With Ellen's shooting and last words, Neal is certainly going to be tracking down this mysterious, Sam. Could their quests for answers draw them back together? I hope so. Their lives are more complete when they are together. And, Sara brings out something that no one else can in Neal.
Since Neal's been back in New York, he has been more dedicated to Peter than ever. Neal's escape may be the best thing that could have happened in their relationship, except for the whole evidence warehouse thing. It's been almost too adorable watching Neal bring Peter lunch. At least, this time, Peter was brought into the white collar case by Sara rather than Neal.
Peter is just too awesome in the White Collar Division to be left in evidence for too long. Thankfully, he was able to infiltrate this case and show his value. And, more importantly, proved to his superior that he and Neal are nearly perfect partners. From a simple message from Sophie, Peter was able to figure out how to save Neal and bust the murderer.
Now, that Peter has been reinstated to White Collar, you'd think things would be back to business as usual. Unfortunately, with Ellen's shooting that isn't going to happen. There is no way Neal is going to stay away from finding out who shoot his only remaining family member.
White Collar has had longer story arcs before, but I don't think any will be as intense, dark or emotional and Neal's investigation into his father's past and Ellen's shooting. It's a ride I'm looking forward to taking each Tuesday.
Odds and Ends
Mozzie gardening with Ellen was touching.
Peter indexing stolen fake body parts — eww!
Neal in the kitchen — hot!
What the heck was that camera that Mozzie was using? Hilarious.
Confused why if Ellen was in WITSEC why she reached out to Sam. What was so important that she let it out that she was around?
Who is this mysterious Sam? Is he really a friend and not a foe? Contacting him is what lead to the shooting, right?
Photo Credit: USA Network