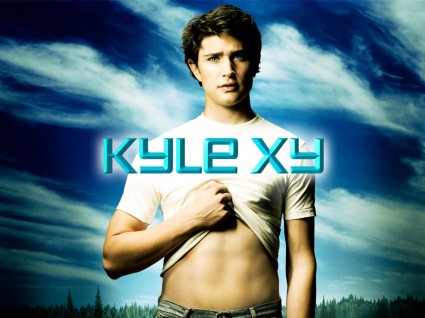 Well before going into the second season finale of ABC Family's Kyle XY, we knew the fate of the series was sealed. The show was not getting a fourth season, so whatever we were left with at the end of season three was it. A lot of us who had invested in the show for three seasons hoped for a lot of resolution, but we all know we can't expect these miracles when episodes are already wrapped and no contingency plans are put in place. So, we were left with that unsatisfying and unresolved cliffhanger with the Latnok conspiracy and … close curtain.
Last night, writer and Executive Producer of Kyle XY, Julie Plec, took to answering questions for a half hour or so on Twitter, following the series premiere of the new show she's currently spending all of her waking (and non-waking) hours on: The Vampire Diaries. I threw a non-Diaries question at her: Would we see some resolution to Kyle XY in some way?
Her answer: "KyleXY season 3 dvd has a mini wrap-up.  It's the best we could do given the circumstances."
ABC Family reportedly responded earlier this year that there would be no TV movie to wrap everything up. Apparently they either didn't count this "mini wrap-up" as a full-fledged movie, or it's not something filmed at all. Could it be in the form of text-only, that we need to read on-screen? A simple voiceover,  accompanied by shots from previous episodes? Ms. Plec did mention some ideas at one point, though it's not clear if that's what we'll be seeing in this feature.
There's no street date for the third season DVD release, though you can be certain we'll be giving that a look when it's out. Being left with a cliffhanger to end a series is like a bad case of blueballs, so I'm about ready for the pain to be over.
Photo Credit: ABC Family