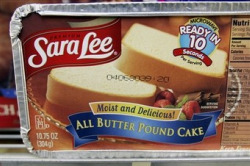 Today is National Pound Cake Day.
When I was a kid, I used to eat an entire pound cake myself every single week. Well, let me clarify that: I used to eat an entire pound cake myself in one night. Usually a Friday or a Saturday night, in front of the television. It was Sara Lee. I'd get the container out of the fridge and eat it ice cold (I don't like my cakes warm) right out of the container, usually with Pepsi.
Here's a recipe for Buttermilk Pound Cake from AllRecipes, and here's one for Chocolate Almond Pound Cake from CD Kitchen. And if you're looking for a pound cake that's deep-fried, here's a recipe for Deep-Fried Chocolate Pound Cake from Paula Deen. You can always count on Paula Deen to deep-fry something.
I had Sara Lee again about six months ago for the first time in several years. It was as good as I remember it. I'd write more but I have to go to the supermarket.
Photo Credit: USA Today