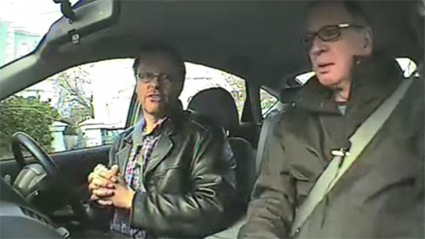 And this one is real. Not like that crazy commercial thing Fred Dryer has going. Most of you probably recognize Robert Llewellyn from Red Dwarf or Scrapheap Challenge/Junkyard Wars. If it's the former, you'll be glad to know that the new Red Dwarf is going into production this Saturday. And if it's the latter, there is a treat in the offing for you as well.
Llewellyn's new show is called Carpool and is available online at llewtube.com, on youtube, and through iTunes. The premise is pretty simple. He picks up somebody in his car, and they have a bit of a chat as they drive around. He's planning on 12 of these little 15 minute excursions, and the first one is available now.
That first episode  features Ed Bye, who you may know as one of the directors from Red Dwarf. Even if you're not familiar with Mr. Bye though, it doesn't really matter. It's still a very entertaining conversation as they make their way to the party supply store.
And that treat for Scrapheap fans? According to the Llewellyn twitter feed, the next episode of Car Pool will feature Cathy Rogers. What's better than that? I'm also looking forward to the episode with Nigel Planer from The Young Ones. To give you an idea of what's in store for you, have a look at the trailer for the show.
Photo Credit: llewtube.com