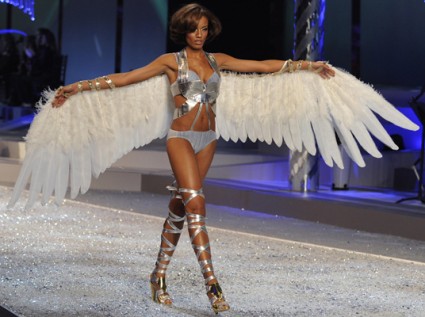 It broke my heart a little that I wasn't able to review last week's episode of The Celebrity Apprentice. After watching the Govna get fired over the weekend, I felt so much frustration at not having been able to deconstruct such a fabulously insane episode. But I read Tara's review, and she hit it right on the nose. Nice job!
Last night's task on The Celebrity Apprentice was to create a TV and Internet spot for Right Guard Total Defense 5. In my opinion, that was a much better idea than last season. Remember the four page spreads the teams created, with the roll-on stick integrated into the skyline of Manhattan? Yuck.
This time, Holly faced off against Curtis, with a little help from former NBA players Clyde Drexler and Scottie Pippen. What left me puzzled was the following: Clyde Drexler played for the Houston Rockets for 3+ seasons at the end of his career, but he was and always will be a Portland Trail Blazer, the team that drafted him in 1983, and who he played for for 11+ seasons. Putting him in a Houston uniform for the shoot was like putting Scottie Pippen in a Houston ('98-'99) or Portland ('99-'03) uniform. Pippen was a Chicago Bull (12 seasons, six rings), and was rightly adorned as such. Honestly, I thought that was going to come back and bite the guys in the butt.
It didn't. Instead, it was Holly's "funk" campaign, targeted at moms after the executives explicitly told her not to do that, that came back to haunt one of the teams. As well it should have, but we'll get to that in a moment.
What's up with the contestants this season? You'd expect a lot of hustle and bustle from stars, but this group? I was pleasantly surprised to see how the team rallied around Bret when he got word that his daughter might be sick. Like I said after the premiere, this is not the Bret Michaels I expected we'd meet here, and I am extremely impressed.
Michael Johnson leaving, on the other hand, totally blindsided me. But you know what? What possible reason is there that he can't come back to the competition? How is his leaving to deal with his son any different than the time that Sharon's missing being sick? There must have been more that Michael told Trump, because that decision by Donald made no sense otherwise.
And before I forget, I was totally psyched to see George Ross back again, both last episode and last night. My wife and I love George, and have always been disappointed when he's not on the show. I'd prefer it be George and Don Don, but their taking turns is okay too.
Okay, to the boardroom. Clearly the facial reactions of the executives during the men's commercial belied their enjoyment of it, because man that was one cold room. I thought both commercials sucked, and were terrible wastes of two stars, but the men clearly got the point more than the women did. As for the women's Internet spot failing? All Maria needed to say in response to Holly and Selita was that the editing snafu wasn't why the executives disliked their ad — it was because it was unoriginal, something that was completely Holly's fault.
Holly, meanwhile, puts the nastiest looks on her face during these ordeals. When Trump asked Cyndi to sing the jingle, I though Holly was going to explode. Clearly, her ownership of the project, as well as her lack of the ability to properly delegate, should have resulted in her departure. I'll tell you something you already know — Selita getting cut for "lacking fire" is garbage.
And so, in one of my many useless protests of poor decisions on this show (see last year's usage of the names Baby and Momma in reference to the Rivers), I am going to ignore the boardroom ruling on this one, and hereby refer to Holly as "Selita" (with quotes). Because as much as Selita totally prima-Donna-ed it up during the task, Holly should have been fired without a second thought. Cyndi needs to man-up and speak her mind, Summer needs to drop the friendship and get real, and Maria should have fought harder to ensure that the right person got canned.
Which is what those discussions are about. It's not "throwing someone under the bus" to answer truthfully about who failed to perform during a task. The phrase has become so over-used on the show that it's lost all meaning at this point. So maybe stop using it now?
Anyway, I like the men's team that's left. The women still need to do some pruning, but with another cut or two this should be back to more fun, less whining.
And maybe another episode of "Curtis manages Ivanka." That was awesome.
Photo Credit: BET.com