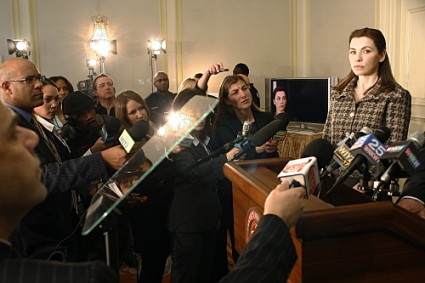 Get past the fact that it's actually not a crime drama on CBS … the Powers That Be saw fit to produce The Good Wife, a legal drama centered around lawyer Alicia Florrick, played by Julianna Margulies, who recently returns to work to support her family. Why? Her husband Peter was basically a giant douchebag politician, tossed in jail for a sex scandal, and other illegal acts.
It sounds pathetic, doesn't it? But this, my friends, is not a sob story. It is a charming story of a woman's strength and her love for her family, her interactions with the quirky people she meets in her revived career, and her relationship with her estranged inmate husband and her mother-in-law (who lives with her and her children).
Even though you hate him on some levels, you can't help but feel for Peter, probably because he is played by Chris Noth — always Mr. Big to me, though being part puppy-dog definitely helps his character's sympathy vote. It is a tense and awkward relationship, for sure, but so honest that it becomes … likable, for lack of a better word. I crave the screen time we get between Margulies and Noth. Perhaps it's their chemistry, maybe the writing and directing; but it works, utterly and completely.
Speaking of awkward, really … who wants to live with their mother-in-law, even in the best of circumstances? Living with your jailed, cheating husband's judgmental mom is probably akin to Chinese water torture, and I can imagine Alicia must at least bite her fingernails — if not grind her teeth — and often.
I've got to say, this is not my kind of show, yet I was thoroughly engaged from beginning to end. For the life of me, I can't finger exactly what it was, except that it was so well-balanced and refreshing, different — even though it sounds like it could be typical — and so well-acted. It's been a long time since a straight drama has really grabbed me, and hopefully The Good Wife will continue to live up to its stellar pilot, which airs on CBS on Tuesday, September 22 at 10:00.
Photo Credit: Eike Schroter / CBS