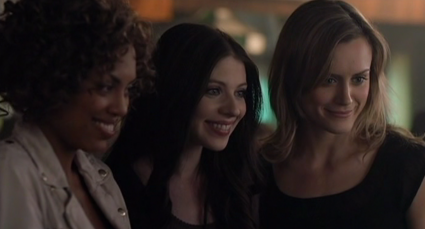 After taking two separate passes at the pilot, I'm not entirely sure how I feel about Mercy (originally scheduled as a mid-season replacement, but moved to the Fall recently when production on Parenthood was delayed). There is enough good about the show to really like, but then it just does some silly crap, seemingly just to piss me off. Considering my (admittedly, most likely to fail) boycott of NBC's lineup — yes, Mr. Leno, I'm looking at you — Mercy's pilot did just enough to make me want to see the second episode, but not enough to throw it on the DVR's "season pass" list.
Newcomer Taylor Schilling leads what is, for the most part, a fairly inexperienced cast. Whedonites will obviously know Michelle Trachtenberg from Buffy, and might just recognize Jaime Lee Kirchner as Rayna, from the "Stage Fright" episode of Dollhouse. Schilling is an Iraqi veteran trying to find her place in her own life; Kirchner, the sassy object of all of the doctors' desires, trying to land the man to take her out of her neighborhood; and Trachtenberg, a wet-behind-the-ears, walking ball of naivete.
James Tupper (Men in Trees) and Diego Klattenhoff (also, I guess, from Men in Trees) play Schilling's fling from Iraq, and husband she's patching things up with, respectively. Delroy Lindo (!!!) shows up as the hospital administrator, and I swear, if you're not looking for her, you'll miss Kate Mulgrew as Schilling's mother.
The show struggles to find its tone in the first hour. It is funny, and it is dramatic, and does both serviceably well, but it's the balance, and mix, between the two that's off. I'm not one that's usually picky about balancing believability against storytelling, but the scene where the nurses are left with the task of turning off life-support for a terminal patient, just took me out of the moment. The love triangle is a bit contrived — and by "a bit," we're talking Felicity levels here. The accents are pretty bad, and come and go at any given moment in the story; especially, unfortunately, with Schilling.
Despite her inability to keep a Boston accent going (or was it NYC…? I truthfully couldn't tell), Schilling really is the reason why the show's prospects are so intriguing. Despite only having one screen credit before this role, she plays the part with such sincerity, that you believe every moment that she has on-screen with another character, from her brother to husband, ex-lover to her friends. She chews out an inexperienced doctor in one scene, and the frustration of working with "superiors" without the drive of her military compatriots, shows without beating the audience's head with a baseball bat.
She has the look, and the talent, to be a breakout star in the vein of Keri Russell, or Jennifer Garner — so much so, in fact, that I was struck with the idea that, if Fringe had debuted this year, I could completely see her in Anna Torv's role. Oh, yeah, and did I mention Delroy Lindo? Who doesn't love Delroy Lindo?
Can Mercy work out the kinks? Absolutely, because, for the same reason I prefer Defying Gravity to the failed Virtuality, the characters work. The three nurses have found a comfort level with each other obvious in the final scene, and the threads of the types of both professional and personal lives these women will lead, were well set up. In a year that's seen the premiere of two other nurse-based shows (Nurse Jackie and HawthoRNe) that I've ignored, I think Mercy has a much better chance of catching on … but only if it steadies itself quickly.
Photo Credit: NBC