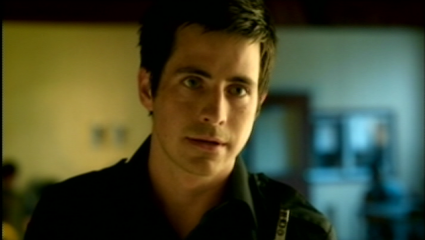 Sebastian's back Guest-clacking for us again, after reviewing the first episode of The Listener.
Did you spot the two major flaws in this week's episode? I'm really sorry, I know I promised you that this show would become compelling but I'll need you to stick with it a little bit longer. I'm going to tell you one of the flaws and leave the comment section up for guesses what the second one was. Main flaw this episode: Toby saw the fire gushing through the ventilator shafts even before the building exploded. So even if this fellow foster kid/meth cooker did see the flames, the explosion would've followed immediately afterwards, and not at least half a minute later. I mean honestly, the guy would've gotten the propane tank out of the way if he'd already seen the flames coming through the vents.
Let's just say this whole episode is furthering the characters' backgrounds. First of all, Toby has a hard time dealing with the fact that he broke up with Emergency Room Doc Olivia (or 'Livia), who now seems to try to move on with a firefighter. You are allowed to guess where this might be going. Olivia being at the ready to patch Toby up seemed a little all too eager, didn't it, and it seems said firefighter has a bunch of problems of his own, didn't he? And Toby might've noticed that together with opening up to the thoughts and emotions of the people surrounding him, the fact that the reason for breaking up with his ex-girlfriend might've been him trying to shut himself off of those emotions in the first place.
The case of the week wasn't that interesting if you ask me. So the perp was just some random guy who was insane and started fires. Big whoop. I mean every time there's a rampage on the news, people later on try to find reasons behind it all and if it's kids running amok they try to prevent it by enforcing gun controls in schools or making Walmart get 3D-shooters off the shelves.
What this episode of The Listener showed us was in fact that, all in all, it's most likely just somebody who's basically insane and that's just it. Next time you see somebody on the news who went on a rampage remind yourself of this episode. He most likely didn't get diagnosed early enough about his mental state and that's it. Sorry for holding up the "Leave my computer games alone" sign but I'm an advocate of the civil right to do what you want to do in your spare time. As long as you don't play with matches.
That cop lady really was on Toby's heels this week. Her name's Charlie Marks, and you have to wonder where all this is going. Is she going to work together with Toby in the near future? Is Toby still interested in Olivia or might the possibility of working "closely" with Charlie lead to something else? You know that I know but just let met toy with you a little bit until things get concrete, will you?
We'll find out soon enough. It's not all that yellow in Canada and it'll all get more interesting. At least as interesting as Reaper (needed to get that one in, sorry guys). See you next week.
Photo Credit: NBC