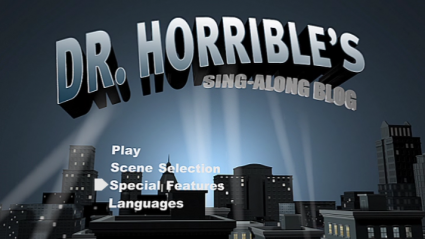 The moment I caught the news, via Dr. Horrible's Twitter feed, that a DVD version of Dr. Horrible's Sing-Along Blog was complete, I knew I had to eventually own it. I didn't care that I'd seen the entire show online for free, or that I'd bought each act from iTunes already or saw it on screens at ComicCon with thousands of singing freaky fans this past summer. No sir.
Lucky me, I was able to obtain an early review release of Dr. Horrible before it makes its way to Amazon.com on December 19. Oh, don't call me so lucky — it's just a cheap burn from the offices of Bad Horse/ELE for review purposes, so I've still got my pre-order set for the official release (not that I'm complaining!)
So, let's look at what you get with the DVD that you haven't already seen….
The Movie Itself
I must say it was great to see the show play out on my large LCD TV rather than a laptop screen. And before you say anything: yes, I know I could have displayed it on my TV from my computer using any number of other options. The quality of the video and sound is as crisp as you'd hope it would be. Other than that, there aren't any extra scenes thrown in, at least by default (more on that later).
The Commentary(!)
There are two versions of commentary you can play over the movie. One is the much talked about "Commentary! The Musical," which is — you guessed it — an almost-entirely sung "commentary." I put quotes around commentary because it's not really a commentary on what you're watching on-screen at any given time, which could be just as easily listened to without the accompanying video.
That's not to say that "Commentary!" isn't worth listening to — far from it, in fact. You're basically getting another 40 minutes of musical numbers, some which I like better than a few in the movie. For the most part it's the entire group singing about how they got along with each other (and how they didn't), who felt snubbed and a couple of other worthwhile digs. Oh and for some reason I feel compelled now to mention The Guild … curse those subliminal messages!
One of my favorite numbers from "Commentary!" was the soft melody, "Ninja Ropes." To prepare you for that, go have a play of the game here — Nathan Fillion boasts a 119.7 yard record! A sampling of the lyrics:
There's a game on my phone
That I sometimes like to play when I'm alone
go to Google, type it in
Click the extreme edition
And in moments you'll begin
And you'll be thinking this is dope
Ninja Ropes.
A couple of other notable songs are "Nobody Wants to be Moist" (one guess who sings that one), "Ten Dollar Solo," Nathan Fillion's "I'm Better Than Neil" (best quote at the end of that song: "Nathan, what are you trying to say here?"), and "It's All About Me." Even Joss has a number in there toward the end. Another great spot of lyrics comes from the final song before the end credits:
Hope you had fun,
'cuz now we're done
You've listened to every word.
Seeing it through
Makes each of you
a huge fucking nerd.
I need to note, though, that the profanity is bleeped on the DVD. If there's an option to turn that off, I didn't find it.
The other set of commentary is the "more serious" one that features Neil, Marissa, Joss, Zach, Felicia, Nathan and Jed. This was one of the better commentaries I've listened through. The sound had each person placed around the surround such that it sounded very much like they were all sitting in specific spots behind you (at least this is the effect I got with headphones). Also, the commentary was very thorough and without any lulls in the conversation at all. I kept thinking that I wished Joss did this much commentary for his TV shows, but then again, this is one "episode" we're talking about here, not seasons worth.
Any true fan of Dr. Horrible will need to listen through both commentaries. Within this second one, a few things were revealed that I didn't know (but maybe you all do and I'm just lame for never having heard it before.) Here's a teaser for you: they make mention of a special guest in the audience during the award ceremony at the end of the movie. See if you can guess who it is:
Special Features
There are a few featurettes included on the DVD that are a perfect length for what they cover, and they capture the excitement that went into making the film and the songs, as well as the reception Dr. Horrible got at places like ComicCon and the Internet in general. Those who attended the panel at ComicCon might catch a quick glimpse of themselves if they look closely enough.
Also included is the original trailer for the movie and a set of a bunch of fan-made ELE applications. Some of the ELE applications were worth skipping through, though there are some stand outs including Mr. Terrible, Tur-Mohel and Lord Stabbington. Kudos to everyone who put the time into those videos!
Other Things
There are definitely easter eggs hidden on the DVD. I made some progress in finding what seem to be two triggers to get to some other special features on the disc, but after that I was stuck. I won't reveal the steps I found for getting to these two clues, but at least in once instance you have to use resources not on the DVD to proceed — that's all I'll say about that.
It's possible there are other features hidden by the easter eggs, such as cut scenes and gag reels, but I'll just have to dig around more or wait for someone a lot smarter and with a lot more time on their hands to help me out.
Conclusion: The Musical

DVD
I saw it first
There I go
Gloating
Anyway
To quench your thirst
It's till online
That's worth noting
So yeah this DVD it's worth a buy
Order this DVD, it needs to be given a try
If only for
The special things
"Commentary!"
So fucking great
Easter eggs
Joss Whedon sings
Pre-order now
It's not too late
Like I said this disc is worth your dime
Thanks for reading I just hope this was worth all your time
Wait a sec
What is this?
A DVD!
To giveaway!
Comment now
Just promise
Post only once
Not every day
We'll pick a random one to win this prize
Thanks again for reading and, oh yeah, good luck you guys!
(All comments left between now and next Friday, December19th at 5 PM EST are eligible. Only U.S.-based mailing addresses are eligible. Not following the above rules voids your entry. You can still comment as much as you want, just only mention you want to enter once.)
Photo Credit: Mutant Enemy