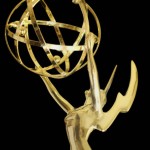 Today's guest clacker is Kelly Bedard, who — wouldn't you know it — has her own TV-themed blog and podcast.
This summer a friend and I engaged in an epic Facebook TV war. For months we quizzed each other, back and forth, pretentiously spouting off on such enthralling quandaries as "which small screen characters do you think make the strongest feminist argument?" and "of all Whedon's creations, who do you think demonstrates the greatest heroic arc?"
We debated the symbolism of Six Feet Under's archer moments and discussed the darkest mysteries of the Lost island, but the conclusion we ultimately came to is that, while we love slogging through the metaphorical depths of some of TV's artier shows, there's a reason that we can watch an episode of Friends ten times and still find it funny, while once through Mad Men is quite enough. TV critics and award shows have descended into irretrievable depths of elitism in recent years and television is suffering for it.
Every year, the schism between "quality" shows and "popular" shows is widening and I honestly don't believe that it's because the audiences are getting dumber. These days it seems as though being on a mainstream network immediately disqualifies you for an Emmy or even for major critical recognition. All the love, instead, gets directed towards cable shows that no one I know actually watches (and my friends watch A LOT of TV).
Every time another Emmy goes to Jeremy Piven instead of Neil Patrick Harris, How I Met Your Mother gets a step closer to being canceled and replaced with CSI: Guantanamo Bay. The more the press panders away from shows that are readily within the public's grasp, the more the quality will disappear from them and we'll be left with mindless procedurals, a couple of reality shows about heiresses doing construction work for poor dwarves with bad hair and a couple of really good cable shows that most people don't get on their basic cable package.
But it's not just the press and the awards shows. I know too many people who refuse to watch Gossip Girl because they think it's "mindless", won't watch House because it's "unrealistic" and ignore the genius of Friday Night Lights because, and I quote, "high school shows are dumb." People — and this is from someone who's spent many hours discussing the importance of the character foils Sorkin creates in his shows and how Veronica Mars redefined the role of the television outsider in a classist society — Gossip Girl is a good show.
So is the conventional and cheerful TBS sitcom My Boys. The OC was a great television achievement, that Friends is just as legitimate a piece of comedy history as Arrested Development is, that Scrubs is home to some of the most complicated relationships in watched medium history, that the broad US version of The Office easily rivals the more subtle BBC version and that anyone who disagrees probably has not actually watched most of these shows.
Just because the characters carry Gucci purses, have unrealistically beautiful hair or are still in high school doesn't mean that the writers didn't make a point of giving them some depth. Just because there's a pratfall in the opening credits doesn't mean that a show can't contain sophisticated humor. Plots can be complex, arcs can be engaging and metaphors can resonate even in a show on a mainstream network, free from the glory of the press and without an Emmy in sight.
Photo Credit: The Academy of Television Arts and Sciences